Visit website 1628 US 40, Lawrence, KS, Lawrence, KS 66044 Open today until 5 p.m.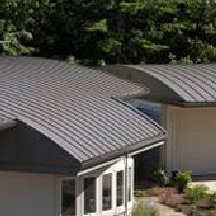 Metal beats out conventional roofing materials on a number of counts:
Expected life. Properly installed, a metal roof should last as long as the house, completely sealing out water and surviving high winds. Metal is resistant to fire, mildew, insects and rot. Warranties vary widely but most companies strongly back their products for a minimum of 50 years.
Weight. Metal roofing is lightweight. Most are from 50 to 150 pounds per square which is significantly less than typical 30 year warranty asphalt shingles.
Fire resistance. Because metal roofs are noncombustible, they're given a Class A fire rating (the most resistant).
Heat conduction. Metal reflects radiant heat from the sun, minimizing midday heat gain. Though the material itself is low in insulation R-value, many systems utilize a dead-air space between the metal and roof deck to increase energy efficiency.
Minimal roof pitch. Most metal roofing materials can be installed on gently pitched roofs without danger of leaking. Typical minimum roof pitch is 3-in-12 (the roof rises 3 inches for each horizontal foot).