Visit website 1540 Wakarusa Dr, Suite S-E, Lawrence, KS 66047 Opens today at 10 a.m.
Photos
Crystal Alexander-Duckett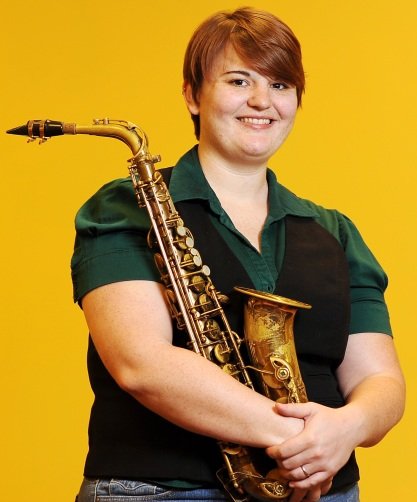 Hi! My name is Crystal and I teach saxophone at Keys of Joy! Originally from Texas, I earned a BME from Texas State University in San Marcos, and went on to the University of Kansas for a Master of Music in saxophone. At Texas State University I was the principle saxophonist with the wind ensemble and a featured soloist with the university's orchestra, jazz ensemble, and wind ensemble. I was awarded the Woods-Cone Family Memorial Scholarship for excellence in musical performance in 2003. Also in 2003 I was selected by audition to perform in a National Collegiate Wind Ensemble at Carnegie Hall under H. Robert Reynolds. In 2004 I founded the River Fusion Saxophone Quartet, which has performed as opening entertainment for several local venues including productions of "The Sound of Music" and "Little Women". At the University of Kansas I have performed with the KU wind ensemble and have been a part of two recording projects available from NAXOS. I have performed with one of the jazz ensembles and KU saxophone quartet I - an ensemble that has won Downbeat Magazine's most outstanding chamber music award a total of six times. As part of KU quartet I, I have performed for the university chancellor, KU at the Capitol, and several other university and local programs. The Quartet has also been a part of the KU Outreach Program in 2009-2010 and toured with the KU Orchestra. I have also performed on several student composition recitals and musical productions such as "The Music Man." From 2006 to 2011 I was a graduate teaching assistant at the University of Kansas in both applied saxophone and woodwind methods. I have also performed with the Topeka Symphony for Gershwin's An American in Paris. I teach all levels and I have given clinics at junior high and high schools across central Texas, Kansas and Missouri. Her teachers include Douglas Skinner, Todd Oxford (Texas State University) and Vince Gnojek (University of Kansas).