Visit website 831 Vermont St, Lawrence, KS 66044 Opens Wednesday at 8 a.m.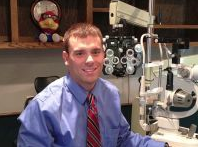 Born in Concordia, Kansas, Letourneau attended the University of Kansas as an undergraduate. A talented athlete, he found a place on KU's football team. You may remember him as free safety #39. Letourneau was awarded Big XII Academic All Conference and District 6 Academic All-American. He received his bachelors degree in human biology in 2003.
After graduating from KU, Letourneau went on to study optometry at the University of Alabama - Birmingham - one of the top medical schools in the country. While at UAB, Letourneau became involved with Student Volunteers for Optometric Services to Humanity (SVOSH). The mission of SVOSH is to facilitate the provision of vision care worldwide to people who can neither afford nor obtain such care. While volunteering with SVOSH, Letourneau traveled to Costa Rica, Honduras, and the Dominican Republic to provide eye exams and distribute glasses to the underprivileged.
Dr. Letourneau enjoys all aspects of optometry and is especially interested in working with athletes and with individuals with ocular disease.