Visit website 15810 Shawnee Mission Parkway, Suite B, Shawnee, KS 66217 Opens Friday at 8:30 a.m.
Products / AAA Travel & Insight Vacations Invite You To Italy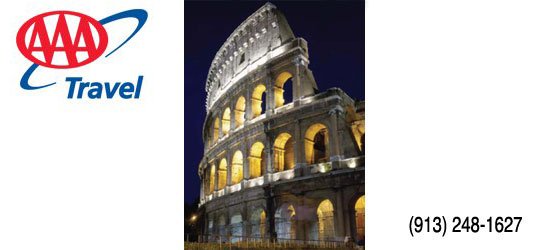 Follow Roman history from the origins of the Empire to the unification of Italy. The Vatican Museums & Sistine Chapel in Rome, Renaissance Florence and the splendor and romance of St. Mark's Square in Venice brings it all to life!
With two nights in each of these cities, this tour is relaxed and well paced. Rome to Florence & Florence to Venice are only half day drives, allowing plenty of time to explore medieval Orvieto and fascinating Verona en route.
Tour dates are November 5-13, 2010.
Contact AAA Travel at 913-248-1627 or email pbolin@aaamissouri.com to begin the process of reserving this trip. Please do not book any non-refundable air reservations prior to consulting with your AAA Travel counselor.
Click on the link below to download a PDF flier for this tour.