Wedding
Robinson and Whitehurst
Dr. and Mrs. Scott and Linda Robinson of Lawrence, Kansas, are thrilled to announce the marriage of their daughter, Erin Robinson, to Destin Whitehurst, son of Ken and Susan Whitehurst of Shreveport, Louisiana. Ms. Robinson graduated with highest distinction from the University of Kansas, worked three years at Deloitte Consulting in Kansas City, and in May completed her MBA at the UC Berkeley Haas School of Business. Mr. Whitehurst graduated from the University of Notre Dame, worked three years at Deloitte Consulting in Philadelphia and Houston, and completed his MBA from the University of Texas McCombs School of Business in May. The couple was married on November 18, 2017, at 4:30 p.m. under the Sacred Oaks at Camp Lucy in Dripping Springs, Texas. They honeymooned in the western Caribbean and now reside in Austin, Texas where they both are Senior Consultants for Deloitte.
Engagement
Gabler and Terrell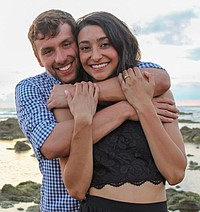 Paul and Peggy Gabler of Lawrence are pleased to announce the engagement of their daughter, Leah Renee Gabler to Joshua Michael Terrell, son of Lowell and Heather Terrell of Lawrence. Leah is a 2015 graduate of Lawrence High School. She is currently a student at Oklahoma Wesleyan University in Bartlesville, Oklahoma and will graduate in May 2019 with a Bachelor of Science degree in Nursing. Joshua is a 2015 graduate of the Lawrence Virtual High School. He is currently a student at CarsonNewman University in Jefferson City, Tennessee and will graduate in the summer of 2018 with a Bachelor of Science degree in Exercise Science. The couple plan a May, 2019 wedding in Lawrence.
Anniversary
Gelvin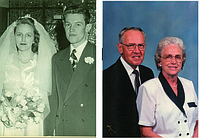 Ralph and Donna Gelvin will celebrate their 70th wedding anniversary on Sunday, March 11 from 24 pm at Pioneer Ridge Health Center located at 4851 Harvard Road (Harvard and Wakarusa). Ralph and Donna were married in Danforth Chapel on March 14, 1948. Ralph spent much of his career at FMC and Donna was a Registered Nurse. They have two children, Sharylyn and Ralph Jr, and five grandchildren. Friends are invited to join the family in honoring Ralph and Donna on this joyous occasion. No gifts please.