Anniversary
Bove and Murphy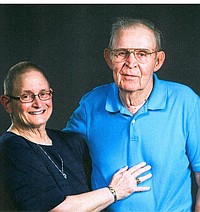 Susan L. Bove and Carl D. Murphy, both of Lawrence, were married on July 23, 1977, at the home of the groom's parents in Lawrence, KS. The Reverend Robert Freitag officiated the service. The couple were joined on this day with family and friends by their sides. Dale is semiretired as owner of Murphy Insurance Agency. Susan retired from the University of Kansas and Bert Nash Community Mental Health Center. The couple continues to reside in Lawrence.
Engagement
Kahler and Stuart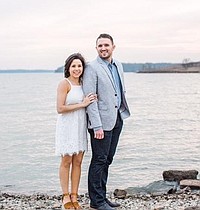 Denise (Stephens) Kahler of Lawrence, KS is pleased to announce the engagement of her daughter Regan M. Kahler to Taylor R. Stuart, son of Dr. Michael and Lisa Stuart also of Lawrence. Regan is a 2012 graduate of Lawrence Free State High School, attended the University of Kansas and will earn a bachelor's of science degree in nursing from Saint Luke's College of Health Sciences in April 2018. Taylor is a 2009 graduate of Lawrence Free State High School and a 2015 graduate of Baker University where he earned a bachelor's degree in education. Taylor is employed as a physical education teacher and assistant football coach with the Lawrence Unified School District. The couple is planning a December 29, 2017 wedding in Lawrence.
Wedding
Chan and deVries
Shawna Chan and Niko deVries are happy to announce their marriage on June 3, 2017 in San Francisco. They were married in a private ceremony on Billy Goat Hill overlooking the city skyline. Noah Wilkinson officiated. Attendants were Poky Wu and Andrew Diec. Shawna's parents are Andrew and Nancy Chan of Singapore. Niko's parents are Phyllis Farrar (Gary Webber) of Lawrence and the late Gunter deVries.
Anniversary
Gaeddert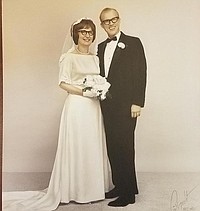 Barbara Knisely Gaeddert and William Kenneth Gaeddert were married July 22, 1967 in Moline, Illinois. They lived in Natcitoches, Louisiana and Iowa City, Iowa before moving to Lawrence in 1974. Barb worked in public, corporate, and university libraries before joining the Catalog Department at KU, retiring in 1999. Bill taught in colleges and universities before joining the music faculty at Baker University, retiring in 2001. The couple has enjoyed traveling, KU basketball, and various service projects since retirement, and the William Gaeddert Voice Studio as been a professional pursuit for Bill.
Engagement
Falkenstien and Boltizar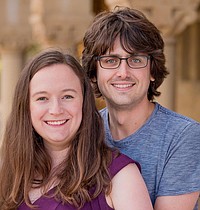 Kate Falkenstien and Rich Boltizar are pleased to announce their engagement. The couple met through college debate and currently live in the San Francisco Bay Area. Kate is a graduate of Free State High School, Yale University, and Stanford Law School. She is an associate at the law firm McKool Smith. Kate is the daughter of Paula Martin and Kurt Falkenstien of Lawrence. Rich is a graduate of Capital High School in Boise, Idaho, and Stanford University. He is employed as the Director of Debate at Stanford. Rich is the son of Karalee Wurster of Boise, Idaho and Richard Boltizar of Boise, Idaho. The couple is planning a September wedding in Truckee, California
Anniversary
Adams
John and Janet Adams, Lawrence, celebrated their 50th wedding anniversary on June 4. The couple married in Green River, Wyoming and later graduated from the University ofWyoming. The couple has lived in Wyoming, California, Idaho, and Kansas. John retired from Black & Veatch, and Janet retired from USD497. Their family includes Ryan, Jill, Harper, Everett, and Emmy Adams of Lakewood, Colorado and Jennifer, James, Koen, and Hudsen Myers of Lawrence. John enjoys spending time with family, riding his bike, and watching University of Kansas basketball games. Janet enjoys being with her grandkids, reading, and swimming. The couple will celebrate their 50th in August on a family trip to Wyoming.
Engagement
Cottrell and Morrow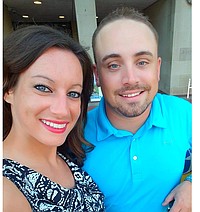 Amber Cottrell, daughter of Larry & Toni Cottrell, Hutchinson, KS and Clayton Morrow, son of Matt & Kelly Morrow, McPherson, KS and Darcie & Scott Campbell, Wichita, KS are pleased to announce their engagement. The bride-to-be is a 2008 graduate of Nickerson High School in Nickerson, KS. She graduated from the University of Kansas in May 2013 with a bachelor's degree in Psychology and a minor in Business. She is currently employed as a Licensed Producer for Chris J. Munk Agency, State Farm Insurance in Lawrence, KS. The groom-to-be is a 2008 graduate of McPherson High School in McPherson, KS. He graduated from the University of Kansas in May 2013 with a bachelor's degree in Business IT. He is currently employed as a Catastrophe Claims Adjuster for Nationwide Insurance. The couple is planning an October 6th, 2017 wedding in Puerto Morelos, Mexico