Wedding
Mesler and Dressler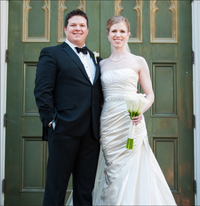 Kailey Ann Mesler, Lawrence, and Michael John Dressler, Kansas City, were married on June 7, 2013, at St. Peter's Cathedral in Kansas City, Kansas, with Fr. Harry Schneider officiating.
The bride is the daughter of Scott and Mindy Mesler, Lawrence. The groom is the son of Roy and Beverly Harris, Olathe.
Maid of Honor was Alison Mesler. Best Man was Mike Gardner. Bridesmaids were Chelsea Albert, Amanda Cox, Melissa Harmon, Nicole McWilliams, Jessica Nichols, and Ashley Ramirez. Groomsmen were Bryan Brady, Jarod Clarey, Neil Harris, Richard Harris, Grant Monnig, Justin Pickert, and Ryan Pickert. Ushers were Joey Ford, Neil Harris, Jr., and Dave Jones. The flower girl was Mallory Love, flower babies were Addison Achberger and Naomi Singletary, and James Love was the ring bearer. Readers were Phil Love and Joseph Serrano.
A reception was held following the wedding ceremony at The Sawyer Room in Kansas City, Missouri.
The bride is a 2004 graduate of Lawrence High School. She earned her Bachelors of Science in Nursing in 2008 and her Masters of Science in Nursing in 2012, both from the University of Kansas. She is employed by Olathe Medical Services as a Family Nurse Practitioner. The groom is a 2000 graduate of Bonner Springs High. He graduated in 2008 from Donnelly College with a Bachelors of Science in Business Administration and a Bachelors of Science in Economics. He is employed by the Federal Aviation Administration in Olathe as an air traffic controller. The couple reside in Gardner.
Anniversary
Marks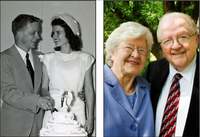 Rev. Charles F. "Freddie" and Winona Marks of Lawrence celebrate 65 years of love for each other, focus on family and partnership in ministry. Married June 7, 1949 in Edmond, Oklahoma they spent their lives raising five children - Mary (David Sallee); Mark (Shanon);
Charlie, deceased (Sue); Teddy (Cynthia) and Paul - in pastorates across the United States. Family and friends are invited to help celebrate their continually-unfolding life story. Children, grandchildren and great grandchildren will honor their legacy at a reception to be held Saturday, June 7, 2014. They will receive guests from 2:00 – 4:00 pm at First Southern Baptist Church, 4300 West 6th Street, in Lawrence.
Anniversary
Clinton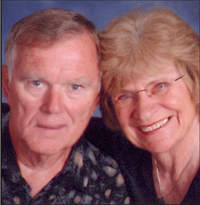 Bob and Jane Clinton were married on June 13, 1964 at the bride's home.
Bob is from Effingham, KS and Jane (Swartz) is from Everest, KS.
They met at Highland Junior College, continued their education at Emporia State University. Bob taught school at Waverly, Burlington, Summerville. Jane taught at Westphallia, Burlington, Summerville, and 26 years at Eudora High School. In 1977, they moved to Lawrence for Bob to acquire his MBA. He worked at Quaker Oats for 13 years before returning to teach at Central Heights High School. Bob also taught Drivers Education for Eudora 20 years. After retiring, Jane and Bob have been substitute teachers for Eudora and Central Heights school districts.
They celebrated their anniversary with their family in Mexico. Daughters: Bonnie and Mark Mills, Lawrence, KS children Andrea, Samantha, Jacob; Tracy and David Vanoncini, Los Altos, CA children Jason, Justin; Karla and Brett Larson, Los Altos, CA children Skyler, Forrest, Kyle.
Cards may be sent to 2905 Chisholm Dr., Lawrence, KS 66047.
loading...
Blog: Latest report shows Lawrence residents saw their incomes grow, but city still has less money than surrounding communities

May 23, 2018 · 1 comment

Letter to the editor: Not fit for Nobel

May 23, 2018 · 11 comments

Rock Chalk Park started as $39 million deal for KU; now it may top $100 million after KU allowed lease to be changed

May 22, 2018 · 14 comments

Kansas Supreme Court justices express doubt about school funding hike

May 22, 2018 · 23 comments

Police arrest 18 protesting in Kobach's office

May 21, 2018 · 16 comments

Views From Kansas: Kobach wrong on education

May 23, 2018 · 10 comments

Letter to the editor: Respect for authority

May 23, 2018 · 4 comments

Gunman opens fire at high school near Houston, killing 10

May 18, 2018 · 66 comments

Court rejects Kobach's contempt appeal as premature

May 22, 2018 · 5 comments