Wedding
Johnson and Myers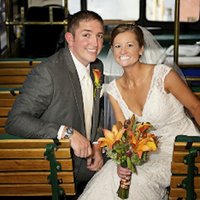 Caitlin Johnson and Dustin Myers were married October 6, 2012 at Plymouth Congregational Church in Lawrence with Dr. Peter Luckey, officiating.
The bride is the daughter of Ken and Chris Johnson, Lawrence. The groom is the son of Lori Myers, Lenexa, Kansas.
Matron of honor was Christine Krzanowsky Smith. Best man was Devon Myers. The bride's attendants were Michael and Dane Johnson, The groom's attendants were Katie Maxon and Jace Smith. Flower girls were Ailey and Imrie Johnson, ring bearer was Luke Smith. Haley Myers was the reader.
Guestbook and program attendants were Katie Rhodes Corkill, Carolyn Gilmore, Marita Robinson, Julie Schrack and Riggs Skepnek. Ushers were Austin Reed and Ryan Scott. Pianist was Jenny Memmott.
A reception was given at Liberty Hall following the ceremony.
The bride is a graduate of Lawrence Free State High School and the University of Kansas. She is a sign language interpreter in video relay service and a freelance interpreter in both Kansas and Missouri.
The groom is a graduate of Lawrence High School and Emporia State University. He is the head of the business department at Lansing High School.
The couple reside in Edwardsville, KS.
Engagement
Searight and Lamborn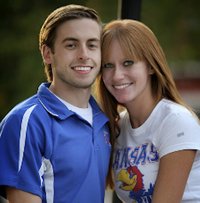 Dr. Lowell (Henry) and Karen Searight of Hiawatha, Kansas, are pleased to announce the engagement and approaching marriage of their daughter, Maggie Louise Searight, to Spencer James Lamborn, son of Richard and Lori Lamborn of McLouth. Maggie is a graduate of Hiawatha High School and the University of Kansas with degrees in Psychology and Human Biology. She will begin medical school at the University of Kansas School of Medicine in July. Spencer, a graduate of McLouth High School, will complete his Paramedic certification from Johnson County Community College in December. The wedding will be held June 15, 2013 in the Virgin Islands. The couple will make their home in Kansas City, Kansas.
Engagement
Montgomery and Ausherman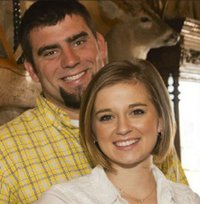 Justin and Heather Courtney of Baldwin city KS, and John Montgomery of Holyrood KS are proud to announce the engagement of their daughter Chelsy Montgomery to Landon Ausherman son of Bruce and Shelley Ausherman of Baldwin city KS. The future bride is a 2011 Baldwin High School graduate. She is currently attending Neosho County Community College seeking a degree through their surgical technician program, and is currently employed by ComfortCare Homes Of Baldwin City KS. The future groom is also a 2011 Baldwin High School Graduate, and is currently gainfully self-employed in the farming business. They are planning a May 25th 2013 wedding at Worden United Methodist Church just outside of Baldwin City.
Engagement
Carpenter and Potter
Andrea and Lucas, together with their families, are pleased to announce their engagement. The couple will be wed in May of 2014 in Lawrence, KS. Lucas Carpenter, son of James and Debra Carpenter is originally from Lawrence. Andrea Potter, daughter of Dave Potter and Lori Trojan, is originally from Windsor, England.
Engagement
Thames and Dickenson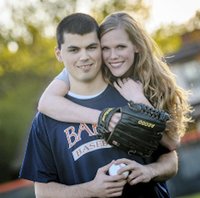 Tom and Lisa Stofac of Lawrence, announce the engagement of their daughter, Lauren Thames, to David Dickenson, son of Kirk and Cindy Dickenson of Colorado Springs, Colorado. The future bride will graduate from Baker University School of Nursing this month. She will begin working at Overland Park Regional Medical Center following the wedding. The future groom received a bachelor's degree in Business from Baker University in 2011. He is currently working toward a Masters of Divinity degree from Midwestern Baptist Theological Seminary in Kansas City. The wedding will be June 1, 2013, in Lawrence. The couple will reside in Kansas City, Missouri.