Anniversary
Davidson
Larry and Angie Davidson celebrated their 50th wedding anniversary on June 8, 2013. After meeting in Valdosta, GA where Larry was in USAF Pilot Training and Angie was in college, they were married at First Methodist Church in Waycross, GA. Having lived in Sacramento, Orlando, and Wichita, they moved to Lawrence in 2005. Their family includes Julie, Steed, Emily, Andrew and Allison Bell of Lawrence and Andy, Nikki, Natalie, Alyssa, Caroline, Savannah and Elliana Davidson of Gig Harbor, WA. They will all celebrate together in July at Cannon Beach, Oregon.
Engagement
Robbins and Gantz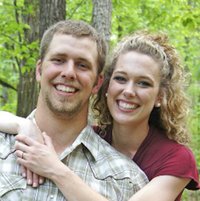 Kris and Nadine Robbins of Perry, announce the engagement of their daughter, Kristin, to Joel Gantz, son of Neil and Nancy Gantz of Perry, Kansas.
The future bride graduated from Perry- Lecompton High School in 2008 and the University of Missouri in 2012 with a bachelor's degree in Art Education and a minor in Spanish. Kristin is currently employed with the Tonganoxie School district teaching Elementary Art.
The future groom graduated from Perry- Lecompton High School in 2009. Joel will complete his final football season with the Northwest Missouri Bearcats and will graduate in December with a degree in Agricultural Science.
Joel and Kristin are planning their wedding for January 4, 2014 in Lawrence. The couple will reside near Perry.