Anniversary
Hale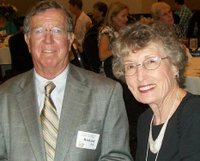 Mr. and Mrs. Dick Hale are observing their 60th Wedding Anniversary. Dick and Nancy met in 1950 while students at KU. After Dick graduated from the KU School of Journalism in 1952 he spent two years in the Army. Dick and Nancy were married Feb. 22, 1953 in Cresco, Iowa, Nancy's home town.
In 1954 they moved to northwest Kansas where they published weekly newspapers in Bird City and St. Francis. They sold the papers in 1974 and Dick resumed his career by editing national magazines. He served as Editor of Golf Course Management in Lawrence; PGA Magazine in Palm Beach Gardens, FL; and Dental Economics in Tulsa. After 18 years in Tulsa, Dick and Nancy moved back to Lawrence in 1999 where they enjoy an active retirement.
Their children honored them with a dinner at Mariscos and a family gathering at the home of their daughter in Lawrence.
They have four children: Steve and Sharyl Hale, Gardner; Kristin and Mike Shurtz, Lawrence; Mike and Jerri Hale, Omaha; and Sarah and Todd Wilcher, Kansas City, MO. They have eight grandchildren.
Engagement
Jacobs and Urban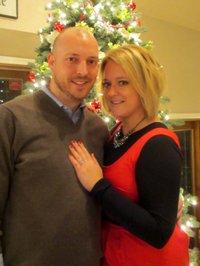 Bud and Sheryl Jacobs, Lawrence, announce the engagement of their son, David Andrew, to Lauren Erin Urban, both of Denver. She is the daughter of Steve and Andrea Urban, Arvada, Colorado.
The prospective groom is a 1995 graduate of Lawrence High School. He earned a bachelor's degree in Business Administration from Northern Arizona University, Flagstaff, in 1999. He is a physician contracting network manager for Aetna Health Care in Denver.
The future bride is a 2000 graduate of Pomona High School, Arvada, Colorado. She earned a bachelor's degree in Liberal Arts, with an emphasis on Media Studies, from Colorado State University, Fort Collins, in 2004. She is a donor relations coordinator for The Colorado School of Mines Foundation in Golden, CO.
The couple is planning a fall 2013 wedding in Colorado.