Anniversary
Hull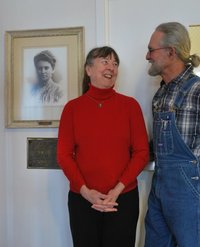 Walt and Ruth Poe Hull, Lawrence, celebrated their 50th anniversary on Jan. 13. A celebration with family and friends is planned for early summer.
The couple met in an art history class in Spooner Hall at Kansas University and were married, Jan. 13, 1962, by Justice of the Peace John Bell in East Lawrence. Their wedding picture shows them in the living room of Douthart Hall, where Ruth lived at the time. They chose to commemorate the occasion by having their anniversary picture taken there as well.
Walt, "The Iron Man," is the owner of Walt Hull Iron Work. His ornamental and architectural ironwork is well-known around town and in places as far flung as the gates to the new Globe Theater in London. Prior to starting his own business, Walt worked for Zimmerman Steel Company for nearly 20 years, the last five as shop foreman. Ruth has worked for Lawrence Memorial Hospital for the past 14 years. Prior to that she spent more than 15 years in sales. Both worked previously in education.
They spent the early years of their marriage in a number of places. They lived in Vienna, Austria, for a year, where Ruth studied German on a Fulbright grant; in Leeds, England, for a year, where Walt worked as a linguist on the Survey of English Dialects; and in Ann Arbor, Michigan, for three years, where Walt studied linguistics and Ruth taught German at Concordia Lutheran College. From Michigan they moved to the Pine Ridge Reservation, South Dakota, for two years, where Walt worked on bilingual Lakota-English education projects, before returning to Lawrence in the early '70s.
They have a son, David and wife Rebecca; and two grandchildren.
Engagement
Wenger and Rose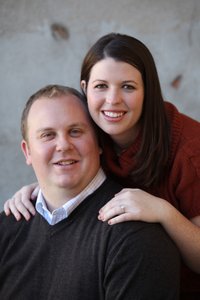 Bobbie Wenger and Jason Rose, both of Baldwin City, announce their engagement.
The future bride is the daughter of Tim Wenger and Debbie Wenger, both of Sabetha. She is a 2003 graduate of Sabetha High School and earned a bachelor's degree in business management from Kansas State University.
The future groom is the son of David and Shirley Rose, Baldwin City. He is a 2000 graduate of Baldwin High School and earned a bachelor's degree in business management from Emporia State University.
The couple plan a June 2012 wedding in Sabetha.
Engagement
Mosqueda and Frank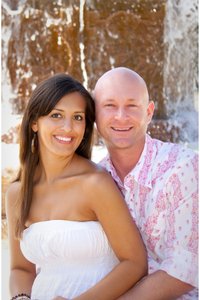 Karla Mosher, Topeka, along with Joe and Peggy Frank, Salina, announce the engagement of their children, Nicole Mosqueda and Andy Frank, both of Lawrence.
The future bride is also the daughter of the late Alfred "Freddie" Mosqueda. She is a 1999 graduate of Topeka Hayden High School, and earned a bachelor's degree in sociology from Kansas University in 2003 and a master's degree in business administration from the University of Phoenix in 2010. She is a senior administrative assistant for the University of Phoenix.
The future groom is 1997 graduate of Salina Central High School and earned a bachelor's degree in business administration from KU in 2001. He is the category manager for Crown Distributors.
The couple plan an April 19, 2012, wedding at Dreams Puerto Aventuras in Quintana Roo, Mexico.