Anniversary
Metzger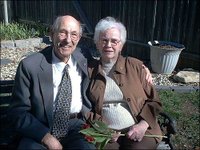 Marvin and Joan Metzger, Lawrence, celebrated their 65th wedding anniversary with family.
The couple were married May 5, 1945.
Marvin served in the Marine Corps during World War II. Following his discharge from the service, he and Joan owned and operated an auto repair business for more than 30 years. They retired in 1980.
They have two sons, Lynn and Mark Metzger, both of Lawrence; and three grandchildren.
The couple requests no gifts.
Engagement
Rapp and Burggraf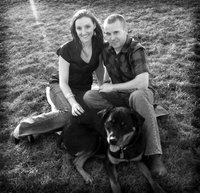 Ben and Yvonne Rapp along with John and Vickie Burggraf announce the engagement of their children, Nichole Rapp to David Burggraf, all of Lawrence.
The future bride is a 2003 graduate of Lawrence High School and a 2008 graduate of Baker University School of Nursing. She is a registered nurse at Lawrence Memorial Hospital.
The future groom is a 2000 graduate of LHS, and a 2008 graduate of Highland Community College. He is a staff sergeant in the Kansas Army National Guard and an electronics mechanic for the Department of Defense.
The couple plan a Sept. 18, 2010, wedding at the groom's grandmother's home in rural Lawrence.
Engagement
Spangler and Hansen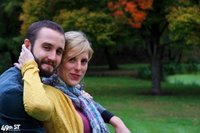 Leslie Diane Hansen and Matthew Joseph Spangler, both of Lawrence, announce their engagement.
The future bride is the daughter of David Hansen and Shonda Chadwick, both of Wichita. She is a 1999 graduate of Wichita North High School and earned a bachelor's degree in English and creative writing from Kansas University in 2004. She is the assistant property manager for Cherry Hill Properties in Lawrence.
The future groom is the son of Les and Mary Ann Spangler, Scott City. He is a 2001 graduate of Scott Community High School, in Scott City, and is the sous chef for Guckenheimer Inc. in Ottawa.
The couple plan a June 12, 2010, wedding at Fall Leaf Farm in Linwood.
Anniversary
Kooser
Jay and Florence Kooser, Perry, will celebrate their 65th wedding anniversary with an open house from 1 p.m. to 3 p.m. May 16 at their home, 3084 Oak Road, Perry.
Gerald "Jay" Kooser and Florence Hull were married May 20, 1945, at an Army chapel in Fort Leavenworth.
Jay retired in 1986 after 32 years with Farmland Industries in Lawrence. He was a farmer before working at Farmland. Jay enjoyed fishing, hunting and traveling in their camper. Florence was a homemaker. She retired after 15 years as a bus driver for USD 343. Florence was the co-pilot on their camping adventures. Over the years, they have enjoyed being snowbirds, traveling to Lafera, Texas.
They have three sons, Mike, Ozawkie; Bob, Berryton; and Ronne, Cleveland, Mo.; a daughter, Kim, Tonganoxie; nine grandchildren; and nine great-grandchildren.
The couple requests no gifts.