Wedding
Flory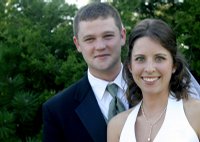 Justine Bowlin and Jason Flory were married Sept. 16, 2006, at the home of the bride's grandparents in rural Lawrence, with the Rev. Gloria J. Lilly-Holt officiating.
The bride is the daughter of Timothy Bowlin and Gary and Yvette Prager, all of Lawrence. The groom is the son of the late John Flory and the late Sheila Knaub Flory, formerly of Lawrence.
The bridesmaids were Haley Bowlin, Alicia Bowlin, Caitlin Bowlin, Devin Creek and Julie Krische. Groomsmen were Keith Garcia, Nathan Flory, Matthew Krische, Nic Dannevik and Ralley Smith.
Flower girls were Evan Dye and Jordynn Rogers. Ring bearer was Porter Dannevik. Ushers were Boston Dye and Carter Dye. Guestbook attendant was Katie Boogher.
A reception followed at the home of the bride's grandparents.
The couple reside in Lawrence.
Engagement
Jackson and Guy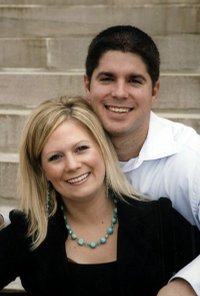 Bruce and Nancy Guy, Lawrence, announce the engagement of their daughter, Alissa Guy, Prairie Village, to Mike Jackson, Prairie Village, son of Robert and Susan Jackson, Bristow, Okla.
The future bride graduated from Free State High School and Kansas University. She is employed by Echostar Corp.
The future groom graduated from the Hotchkiss School in Lakeville, Conn., and KU. He is employed by Cerner Corp.
The couple plan a May 12, 2007, wedding in Lawrence.
Engagement
Brown and Demarest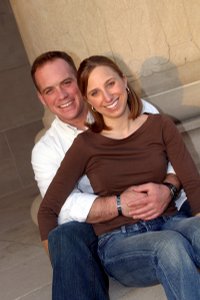 Ken and Susan Demarest, Lawrence, announce the engagement of their daughter, Becky Demarest, Lawrence, to Reed Brown, Clarksville, Tenn., son of Ralph and Debra Sorrell, Lansing, and the late Jim Brown.
The future bride is a 1999 graduate of Baldwin High School, and a 2003 graduate of Dordt College in Sioux Center, Iowa. She is pursuing a doctorate in physical therapy at the Kansas University Medical Center.
The future groom is a 2000 graduate of Lansing High School and received a civil engineering degree in 2005 from the United States Military Academy in West Point, N.Y.
The couple plan a May 11, 2007, wedding at Grace Evangelical Presbyterian Church in Lawrence.
Anniversary
Calef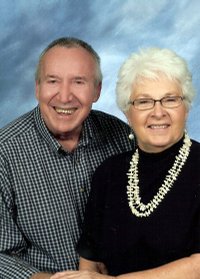 LaVerne and Morna Calef, Goodyear, Ariz., will celebrate their 50th wedding anniversary with a reception Jan. 20 at their home. They also celebrated by vacationing in Maui, Hawaii, in September.
LaVerne Calef and Morna Robinson were married Dec. 30, 1956, in Kirksville, Mo. They moved to Lawrence in 1962.
LaVerne was a longtime employee of Lawrence Freight Line, and Morna worked at Saffee's Clothing. They moved to Goodyear in 2004.
Their children are Angela Puckett, Lawrence, and Alan Calef, El Dorado.
They have six grandchildren and two great-grandchildren. Another anniversary reception is planned for a later date in Kirksville.
Anniversary
Seifert
Arnold and Donna Seifert, Winchester, will celebrate their 50th wedding anniversary with a reception from noon to 3 p.m. Jan. 20 at the John Steuart Curry Community Building in Winchester.
They were married Jan. 19, 1957, in Leavenworth.
Arnold was employed as a correctional officer at the Leavenworth federal penitentiary and is now retired. Donna is a retired nurse.
Their children are Angela Seifert and husband Robert Hamm, Lawrence. They have four grandchildren and three great-grandchildren.
Anniversary
Kniffen
Dr. Edward and Constance Kniffen, Tyndall, S.D., celebrated their 40th wedding anniversary Dec. 28 with a card shower.
Edward L. Kniffen and Constance Sue Wempe were married Dec. 28, 1966, at St. John the Evangelist Catholic Church in Lawrence.
Edward graduated from Kansas State University with a doctorate in veterinary medicine. He owned and operated a large animal clinic in Tyndall and is retired. Connie, a former resident of Lawrence, attended Kansas University and K-State and received a degree in home economics from Mt. Marty University in Yankton, S.D. She operated a seamstress shop in Tyndall.
Their children are Christine Kniffen, Albuquerque, N.M.; Gregrory Kniffen, Sioux Falls, S.D.; and Julie Homann, Windsor, Colo. They have one grandchild.