Wedding
Fizell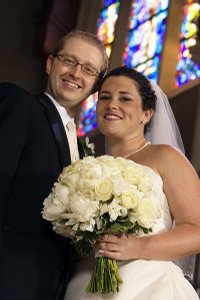 Sarah Elizabeth Carkhuff and Jason Richard Fizell were married May 27, 2006, at Grace Episcopal Cathedral in Topeka with the Very Rev. Steve Lipscomb officiating.
The bride is the daughter of Timothy and Margaret Carkhuff, Topeka. The groom is the son of Richard and Jeanne Fizell, Olathe.
The maids of honor were Kathryn Jensen and Emily Carkhuff. The best men were Joshua Baze and Zachary Baze. The bridesmaids were Melanie Kaba, Andrianna Natsoulas and Laura Murray. The groomsmen were Beau Collier, Matthew Bachand and Emily Heath.
The readers were Cassandra Payton and Bridget Elmer. The ushers were Jeffrey Shappard, Matthew Dunbar, Lukas Pfannenstiel and Seth Hoffman.
A reception was given at the Kansas History Museum in Topeka.
The bride is a graduate of Topeka High School and Kansas University.
The groom graduated from Olathe South High School and KU.
The couple reside in Washington, D.C.