Anniversary
Frydman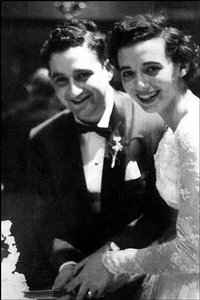 Louis and Jane Frydman, Lawrence, celebrated their 50th wedding anniversary on Sunday.
Louis Frydman and Jane Brunner were married Dec. 26, 1954, at the Tavern on the Green in Central Park in New York City.
Louis was a professor of social welfare at Kansas University from 1969 to 2000. Jane was a Lawrence attorney from 1978 to 2000.
Their children are Dan Frydman, St. Joseph, Mo., and John Frydman and Rick Frydman, both of Lawrence. They have five grandchildren, two stepgrandchildren and two stepgreat-grandchildren.
Anniversary
O'Connor
Betty and Glen O'Connor, rural Lawrence, are celebrating their 60th wedding anniversary today with a family dinner.
Betty Wulfkuhle and Glen O'Connor were married Jan. 1, 1945. Their children are Kenneth and Patty O'Connor, and Brenda and Mitch Sexton, all of rural Lawrence. They have four grandchildren and one great-granddaughter.
Anniversary
Shawley
Claude and LaVonne Shawley, Linwood, will celebrate their 40th wedding anniversary Monday.
Claude Shawley and LaVonne Homeier were married Jan. 3, 1965, at the Immanuel Lutheran Church in Wilson.
LaVonne has been employed at NCS Pearson in Lawrence for the past six years. Claude was employed by the Kansas Department of Transportation as a senior engineering technician. He retired after 34 years of service.
Their children are Brenda Shawley and David Shawley, Lawrence. They have six grandchildren.