Anniversary
Pottorf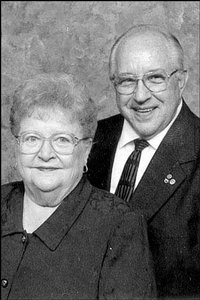 Marlin "Bud" and Julianne Pottorf, Oskaloosa, will celebrate their 50th wedding anniversary with a family dinner Sept. 18 at Topeka Moose Lodge.
Marlin Pottorf and Julianne Means were married Sept. 17, 1954.
Marlin retired after 41 years with Goodyear Tire and Rubber Co. Julianne, a registered nurse, retired after 21 years as administrator of Jefferson County Health Department.
Their children are Saralee Garren; David and Robin Pottorf; and Shelley and Steve Cunningham, all of Oskaloosa. They have four grandchildren.