Oscar predictions 2010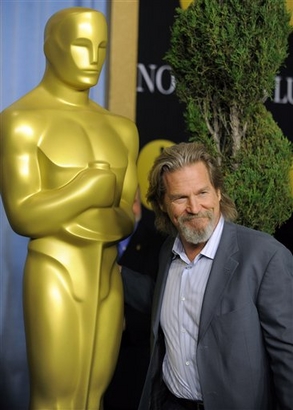 In order to warm up for predicting this year's NCAA basketball tournament, it's best to start with something a little less perplexing: the Oscars.
For once, the acting races are all but sowed up in the 82nd Awards (which airs Sunday), so it should be a cinch to forecast, right?
Well, not if you're putting your predictions up against mine. I've given readers plenty of opportunities to trump me in various print/online contests over the years. And except for that one year with "No Country for Old Men," I've been rather undefeatable.
To start this year's squabble, I'm going to pick boldly (and/or foolishly) in two categories:
The first is actress. For some reason, I just can't picture peppy Sandra Bullock winning the honor (and that's not just because of the residual stench of "All About Steve"). The conventional wisdom is that the actress category is a foregone conclusion this year. I find that hard to believe, considering Bullock's riding a horse as slight as "The Blind Side." Instead, I'm counting on newcomer Gabourey Sidibe to score a huge upset for her emotionally taxing role in "Precious."
The other prediction I'm sticking by involves best picture. I have said all along that there's no way "Avatar" will win the top honor. It's a science-fiction movie, folks. Those NEVER win a significant award among Academy voters. Instead, "The Hurt Locker" will be the victor in this expanded, 10-picture format. This clash presents the most interesting race in years. For once the drama will extend into the third (or fourth) hour of the telecast.
Here is my full roster of picks. I welcome all challengers in this very informal Oscar "contest."
Performance by an actor in a leading role
* Jeff Bridges in "Crazy Heart"
* George Clooney in "Up in the Air"
* Colin Firth in "A Single Man"
* Morgan Freeman in "Invictus"
* Jeremy Renner in "The Hurt Locker"
Performance by an actor in a supporting role
* Matt Damon in "Invictus"
* Woody Harrelson in "The Messenger"
* Christopher Plummer in "The Last Station"
* Stanley Tucci in "The Lovely Bones"
* Christoph Waltz in "Inglourious Basterds"
Performance by an actress in a leading role
* Sandra Bullock in "The Blind Side"
* Helen Mirren in "The Last Station"
* Carey Mulligan in "An Education"
* Gabourey Sidibe in "Precious: Based on the Novel 'Push' by Sapphire"
* Meryl Streep in "Julie & Julia"
Performance by an actress in a supporting role
* Penélope Cruz in "Nine"
* Vera Farmiga in "Up in the Air"
* Maggie Gyllenhaal in "Crazy Heart"
* Anna Kendrick in "Up in the Air"
* Mo'Nique in "Precious: Based on the Novel 'Push' by Sapphire"
Best animated feature film of the year
* "Coraline"
* "Fantastic Mr. Fox"
* "The Princess and the Frog"
* "The Secret of Kells"
* "Up"
Achievement in art direction
* "Avatar"
* "The Imaginarium of Doctor Parnassus"
* "Nine"
* "Sherlock Holmes"
* "The Young Victoria"
Achievement in cinematography
* "Avatar"
* "Harry Potter and the Half-Blood Prince"
* "The Hurt Locker"
* "Inglourious Basterds"
* "The White Ribbon"
Achievement in costume design
* "Bright Star"
* "Coco before Chanel"
* "The Imaginarium of Doctor Parnassus"
* "Nine"
* "The Young Victoria"
Achievement in directing
* "Avatar" — James Cameron
* "The Hurt Locker" — Kathryn Bigelow
* "Inglourious Basterds" — Quentin Tarantino
* "Precious: Based on the Novel 'Push' by Sapphire" — Lee Daniels
* "Up in the Air" — Jason Reitman
Best documentary feature
* "Burma VJ"
* "The Cove"
* "Food, Inc."
* "The Most Dangerous Man in America: Daniel Ellsberg and the Pentagon Papers"
* "Which Way Home"
Best documentary short subject
* "China's Unnatural Disaster: The Tears of Sichuan Province"
* "The Last Campaign of Governor Booth Gardner"
* "The Last Truck: Closing of a GM Plant"
* "Music by Prudence"
* "Rabbit à la Berlin"
Achievement in film editing
* "Avatar"
* "District 9"
* "The Hurt Locker"
* "Inglourious Basterds"
* "Precious: Based on the Novel 'Push' by Sapphire"
Best foreign language film of the year
* "Ajami"
* "El Secreto de Sus Ojos"
* "The Milk of Sorrow"
* "Un Prophète"
* "The White Ribbon"
Achievement in makeup
* "Il Divo"
* "Star Trek"
* "The Young Victoria"
Achievement in music written for motion pictures (Original score)
* "Avatar" — James Horner
* "Fantastic Mr. Fox" — Alexandre Desplat
* "The Hurt Locker" — Marco Beltrami and Buck Sanders
* "Sherlock Holmes" — Hans Zimmer
* "Up" — Michael Giacchino
Achievement in music written for motion pictures (Original song)
* "Almost There" from "The Princess and the Frog" — Music and Lyric by Randy Newman
* "Down in New Orleans" from "The Princess and the Frog" — Music and Lyric by Randy Newman
* "Loin de Paname" from "Paris 36" — Music by Reinhardt Wagner, Lyric by Frank Thomas
* "Take It All" from "Nine" — Music and Lyric by Maury Yeston
* "The Weary Kind (Theme from Crazy Heart)" from "Crazy Heart" — Music and Lyric by Ryan Bingham and T Bone Burnett
Best motion picture of the year
* "Avatar"
* "The Blind Side"
* "District 9"
* "An Education"
* "The Hurt Locker"
* "Inglourious Basterds"
* "Precious: Based on the Novel 'Push' by Sapphire"
* "A Serious Man"
* "Up"
* "Up in the Air"
Best animated short film
* "French Roast"
* "Granny O'Grimm's Sleeping Beauty"
* "The Lady and the Reaper
* "Logorama"
* "A Matter of Loaf and Death"
Best live action short film
* "The Door"
* "Instead of Abracadabra"
* "Kavi"
* "Miracle Fish"
* "The New Tenants"
Achievement in sound editing
* "Avatar"
* "The Hurt Locker"
* "Inglourious Basterds"
* "Star Trek"
* "Up"
Achievement in sound mixing
* "Avatar"
* "The Hurt Locker"
* "Inglourious Basterds"
* "Star Trek"
* "Transformers: Revenge of the Fallen"
Achievement in visual effects
* "Avatar"
* "District 9"
* "Star Trek"
Adapted screenplay
* "District 9" — Written by Neill Blomkamp and Terri Tatchell
* "An Education" — Screenplay by Nick Hornby
* "In the Loop" — Screenplay by Jesse Armstrong, Simon Blackwell, Armando Iannucci, Tony Roche
* "Precious: Based on the Novel 'Push' by Sapphire" — Screenplay by Geoffrey Fletcher
* "Up in the Air" — Screenplay by Jason Reitman and Sheldon Turner
Original screenplay
* "The Hurt Locker" — Written by Mark Boal
* "Inglourious Basterds" — Written by Quentin Tarantino
* "The Messenger" — Written by Alessandro Camon & Oren Moverman
* "A Serious Man" — Written by Joel Coen & Ethan Coen
* "Up" — Screenplay by Bob Peterson, Pete Docter