Ellen … meet Simon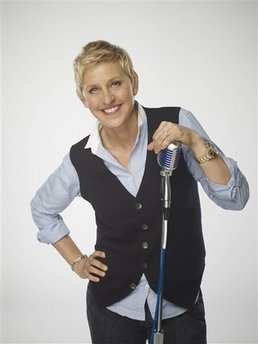 "So this is it, huh? I come on; you leave."
So began the first conversation between incoming "American Idol" judge Ellen DeGeneres and outgoing judge Simon Cowell.
After much ballyhoo, DeGeneres took her chair at the judges podium during "Hollywood Week" on the ninth season of television's No. 1 program, ending months of speculation about the outcome. Would she be timid? Would she be harsh? Would she be too funny? Does she know enough about music to be relevant?
Fortunately, wedged into a panel that includes anti-wordsmith Randy Jackson and fiesty/fakey Kara DioGuardi, she couldn't help but look impressive.
DeGeneres wasted no time bringing humor to the auditions — humor as in the type where people laugh with you instead of at you a la Paula Abdul. Her dressing down of an annoying contestant for "stalking the stage like a leopard" was hilarious. "Sexy and scary — it's a fine line," she explained.
More importantly, she seemed to be focused on getting the correct choices during the winnowing process rather than coming up with an appropriate zinger. ("Top Chef" guest judge Toby Young could learn a few things from her in this regard.)
Love her or hate her — although don't most people lean more to the love side? — you have to admit that DeGeneres has taken enough professional and personal shots in her lifetime to be pretty bulletproof when it comes to standing by her own opinions. Ultimately, that's the single most precious commodity en route to becoming a respectable critic in any medium.
Now if only her addition could help solve the problem of what to do when Cowell abdicates his throne next season …