Welcome to the Dance: Kansas freshman Gradey Dick sizzles in first ever March Madness game, Jayhawks roll 96-68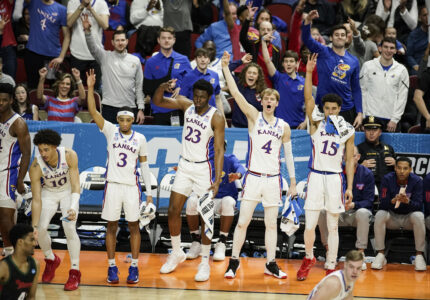 Des Moines, Iowa — For the first 90 seconds of Thursday's 96-68 win by top-seeded Kansas over No. 16 seed Howard, Gradey Dick looked like he was struggling to settle into the game.
He was beat back door on defense for Howard's first basket of the game. He gave up a 3-point play with a foul on another trip. And he was momentarily in the wrong spot in KU's offense on the Jayhawks' second trip down the floor.
"Adrenaline," the freshman shouted with a smile in the locker room after the Jayhawks' Round 1 NCAA Tournament victory. "Adrenaline."
If that's what it was, the Jayhawks (28-7) ought to bottle it up and hand it out to Dick's teammates for the rest of the tournament, because the freshman followed up his slow start with one of the best games of his college career.
In 32 minutes, the kid from Wichita who dreamed of playing for the Jayhawks on this stage, tallied 19 points, 11 rebounds and five assists, giving him the first double-double of his college career and the honor of advancing the Jayhawks into the next round on the large bracket inside the locker room.
"I slapped it on there," Dick said of the Kansas name plate on the poster board bracket.
• 
Box score: Kansas 96, Howard 68
• 
Dick was so good in every aspect of the game after those first two minutes, that you might have forgot that he was a freshman playing on this stage for the first time. Because of that, his teammates were willing to forgive the early mistakes.
"That's how it is a little bit, being a freshman in this spotlight, being the 1 seed," 22-year-old KU senior Kevin McCullar Jr. said after the win. "It happens. Once the game gets going, though, players are going to play."
Added KU junior Jalen Wilson of Dick's poise that allowed him to settle into the game: "The way he came out, it was like he had played 100 of them. He was comfortable, shot the ball well and it was great to see him and everybody have fun."
Nine of Dick's 19 points came from where you'd expect them — behind the 3-point arc. The first one he hit gave the Jayhawks a 29-27 lead and moved him past Jeff Boschee's mark of 79 3-pointers on KU's all-time freshman 3-point list. Dick now has 82 triples and counting.
Eight of his 19 points came from his emphasis on getting on the glass. He finished with two tip-ins and a follow dunk and another rebound in transition that led to an easy basket.
"He did great today," KU point guard Dajuan Harris Jr. said after scoring 11 points and dishing seven assists in the win. "You know, he's 6-8. He's bigger than our center. So, we want him to get on the glass. We're going to need that from him."
Dick downplayed his performance after the victory, saying that he was pleased with the way he played but also that he knew he could play better. Beyond that, the mood of the entire team in the locker room was about putting this one behind them and looking ahead to the next game on Saturday.
That's not to say Dick did not have a few moments where the whole thing felt like a dream.
"To actually be here and get my first taste of March Madness, it's special to me and my family," he said. "There was a part of it where I was pretty exhausted, but those are the most fun games, when you are going up and down and anything can happen."
That was exactly the way Howard (22-13) wanted to play. And for 15 minutes it worked. The problem for the underdog in this one, however, was that their style was also comfortable for the Jayhawks and Dick and company proved to be much better at playing it.
"We always want to play fast," said acting Kansas coach Norm Roberts, who filled in for KU coach Bill Self for the eighth time this season. "We're better when we play fast."
If they weren't, Howard might've put a slightly larger scare into the Jayhawks and the pro-Kansas crowd at Wells Fargo Arena on Thursday.
Although Kansas led for 34:07 of Thursday's game — and Howard for just 2:25 — the Bison had the game tied at 33 with 5:27 to play in the first half and even had a 32-31 lead late in the first half, as well.
"We knew they were going to come out blazing," Dick said.
Added Wilson: "Once that kind of went away, we kind of ran with the game."
The Jayhawks responded to that last Howard lead with a 19-5 run to close the half and then outscored HU 46-31 in the second half to cruise to victory.
So much of the first 15 minutes was about KU's inability to get stops. Howard made five of its first nine 3-point attempts and played relatively even with KU in transition. But that late first-half run, which moved to 22-5 when Harris hit a 3-pointer to open the second half, proved to be far too much for the underdog to deal with and Kansas never looked back.
"The Big 12 prepared us for moments like this and games like this," sophomore forward KJ Adams after scoring 13 points on 5-of-10 shooting.
All five Kansas starters reached double digits in scoring — Big 12 player of the year Jalen Wilson led everyone with 20 points — and Kansas even got 23 points from its bench.
Reserves Joe Yesufu and Ernest Udeh Jr. each scored eight points, and their impact not only helped Kansas cruise to the easy win, but also allowed the Jayhawks to run without wearing down.
"In that second half, there wasn't a foul called for about five minutes and it was up and down and our guys were begging to come out," Roberts said. "I think their guys were just as tired."
By the end, after shooting 52% from the floor, 41% from 3-point range, outrebounding the Bison 44-35 and outscoring them 54-32 in points in the paint, it was the Jayhawks who had their first five on the bench, cheering for the rest of the roster and starting the short celebration of moving one win closer to their goal.
Although the final statistics painted a pretty picture, Thursday's game wasn't perfect for the top-seeded Jayhawks. And that, in and of itself, was perfect in their eyes.
"It's important," Wilson said of being pushed for much of the first half but responding like champions. "No game is supposed to be easy. It's March Madness. Every team here is capable of winning games and I think it was a good first game for us."
Next up, Kansas will play No. 8 seed Arkansas, a 73-63 winner over Illinois in Thursday's second game in Des Moines. The Jayhawks and Razorbacks (21-13) will square off at 4:15 p.m. Saturday on CBS. The winner will move to the Sweet 16 and head to Las Vegas next week.