Jalen Wilson embracing pre-draft grind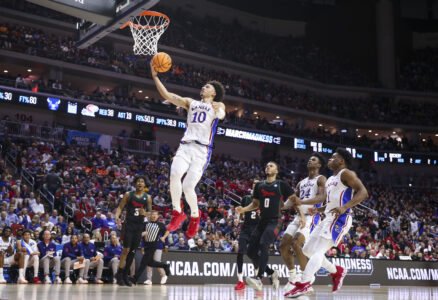 Last spring, Jalen Wilson participated in several pre-draft workouts. But with the possibility of returning to Kansas still present in his mind, he didn't have "two feet in."
This time around, he's fully committed, and armed with the knowledge he gained from his previous go-round about what it takes to thrive on the workout circuit, flying from place to place to show off his skills for as many teams as possible.
"I think it just gave me the awareness of how it goes," Wilson told reporters Monday after his workout with the Golden State Warriors. "Understanding you got to be in the best shape of your life … being able to do it at a high level, (I) think it takes a lot of preparation."
It wasn't just 2022 — the 6-foot-8 forward Wilson previously declared for the draft each of the last two seasons, but ended up sticking it out in Lawrence and managed to reach his peak as a redshirt junior in 2022-23. The first-team All-American and winner of the Julius Erving Award as the nation's best small forward averaged 20.1 points and 8.3 rebounds per game.
Wilson said KU coach Bill Self advised him about what playing at the next level would be like.
"I think a lot of times, college obviously isn't as fast as the NBA, and he was never a guy that let me settle," Wilson said.
During this cycle of pre-draft workouts, Wilson initially visited the Kings, Clippers and Blazers (per comments he made after his Portland workout Thursday) before working out for the Lakers Friday and then the Warriors Monday.
"Always fun to have the opportunity to compete with other high-level guys," he said, "especially at a winning place, a winning environment like the Warriors'."
Wilson said that given how many basketball players these teams see on film, he's putting an emphasis on showing his personality to help set himself apart.
"They want to see how we are as a person," he said, "how we are on the floor if shots aren't falling, or if shots are falling."
Recent mock drafts from outlets like Bleacher Report, ESPN and USA Today projected Wilson in the middle of the second round. Both LA teams, Portland and Sacramento have picks in that range; however, the Warriors currently only pick at No. 19 overall, meaning they would either need to draft Wilson earlier than expected or acquire him via a trade or (less likely) an undrafted signing.
Gradey Dick, who was a freshman for the Jayhawks last year, is considered a prospective top-10 pick and has reportedly worked out for teams like Dallas and Oklahoma City. The draft takes place June 22.