Dickinson and Harris already laying groundwork for new-look KU lineup
If the foundation of any interpersonal relationship is setting expectations, then Hunter Dickinson and Dajuan Harris Jr. are already off to a strong start.
Dickinson — the highly touted transfer center from Michigan — said Sunday that before committing to KU, he told Harris, "If you don't average 10 assists, it's gonna be your fault."
The lighthearted response from Harris, who reached the 10-assist threshold thrice last year as the Jayhawks' starting point guard? He said it was Dickinson's job to "put the ball in the hole."
"Well, it's up to you," Harris said.
The returning guard and incoming center, whose interplay will be at the core of KU's offense this year, heaped praise on one another in their first media availability of the summer following Dickinson's arrival in Lawrence. The 7-foot-1 native of Alexandria, Virginia, a two-time member of the All-Big Ten first team, said Harris was the player he was most excited about joining.
"I know Juan's gonna make it real easy for me," he added, "but I'm trying to make it easier for the other guys too."
"He can shoot 3's, he can do everything at 7-(foot)-2," Harris said, "so I just got to give him the ball at the right spots."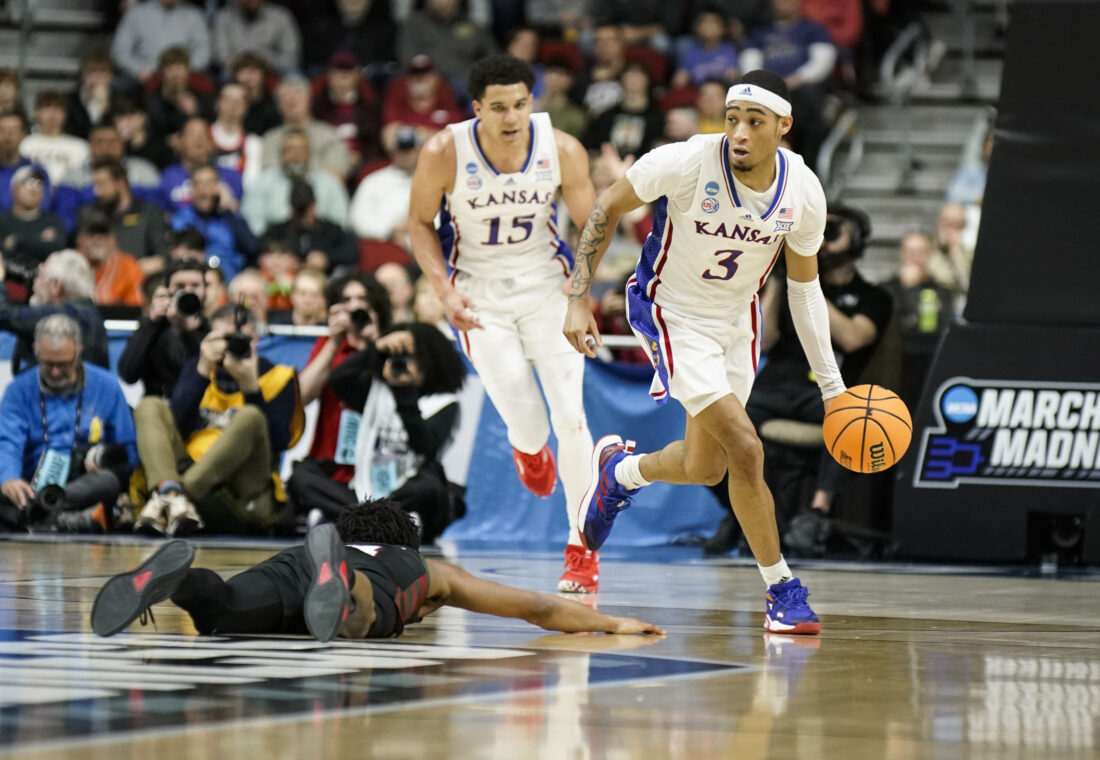 With players gradually filtering into Lawrence, this year's Jayhawks team has begun the long process of bonding, a process made especially challenging this year by the presence of just three returning scholarship players — Harris, KJ Adams Jr. and, somewhat unexpectedly, Kevin McCullar Jr. — to supplement, as it stands now, four transfers and three freshmen. But KU already has a preseason trip to Puerto Rico on the calendar in early August for which both players expressed excitement.
Dickinson reflected on his trip to Europe last summer with Michigan and said he had similar expectations for Puerto Rico.
"It was a great time for bonding and stuff like that," he said. "Just being somewhere with just your teammates … it'll be really fun and good to see guys in their element and just hopefully make us grow closer on and off the court."
The Jayhawks are already getting to know each other better, Harris added, thanks to events like a taco dinner that Adams helped prepare for the team Saturday night.
"Everybody was in there talking, getting to know each other," he said. "So with that going on, (we're) going to Puerto Rico, I think that bond should get better."
Beyond his ability to cook Mexican food (though Harris said the tacos were good), Adams has plenty of potential to grow on the court this year. Dickinson said that his own ability to space the floor from the center spot could help the 6-foot-7 Adams, who has previously played as an undersized center, get mismatch opportunities in his newfound power-forward role. Harris noted that Adams' offseason work on his shot could put him on the threshold of "looking like a pro."
"He got everything else," Harris said. "He got the body, he's athletic, he can pass, he got the IQ, so if he just get that shot — I know we're going to be working on it with him all summer."
Dickinson has only just arrived, but he said he's interested in hosting a camp of his own to get to know the Lawrence community soon.
"I'm trying to leave my mark here and have people remember me," he said.