Melinda Maturo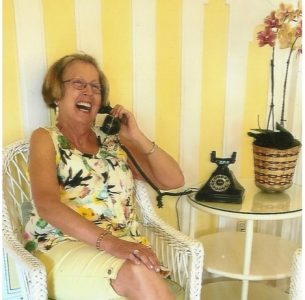 Surrounded by family, Melinda Joanne Starkey Maturo left this world peacefully on April 26, 2021, at her home in Clearwater, Florida. Born October 19, 1957 in Kansas City, Missouri, she was the adopted daughter of John Everett (Jack) and Margaret Fisher Starkey. Growing up in Lawrence, Kansas, she attended Lawrence High School graduating in 1975 and the University of Kansas receiving a bachelor's degree in elementary education with a minor in special education in 1979. That same year Melinda married Chris Maturo and they moved to Wichita, Kansas where they started their family. Melinda taught first and second grades in Wichita for six years and ran her own daycare/preschool out of the home.
Melinda and Chris were blessed with three children: daughters, Heather Michelle Maturo (Eric) Tolisano, Taylor Leigh Maturo (Jaime Cabré), and son Matthew Christopher Maturo. The family moved to Valparaiso, Indiana where the children grew up and attended high school. Melinda taught in special education for eight years in Hebron, Indiana. After divorce, Melinda moved back to Kansas to care for her father Jack until his death. She taught in Lawrence and Olathe, Kansas for a total of four years, and during this time earned her master's degree in Reading from Emporia State University.
In 2015, Melinda moved to the Tampa, Florida area to be closer to family. She taught students with intellectual disabilities for five years at Corr Elementary School in Gibsonton, Florida, but had to resign due to health concerns. She lived the last year of her life in Clearwater so she could be close to her young grandsons, Jacob and Cody Tolisano, who she had the opportunity to visit frequently.
Melinda lived a blessed life full of family and friends. Her strong Christian faith gave her strength in the good times and carried her through the tough times with grace and dignity. To honor her life, the family is suggesting donations in Melinda's name to the Colorectal Cancer Alliance to help provide broad access to colorectal screening (www.impact.ccalliance.org/WeLoveMelindaStarkeyMaturo).
The family is planning several small celebrations of life in the places she called home later this summer; please join the 'We Love Melinda Starkey Maturo' Facebook page for updates.