Virginia Parsons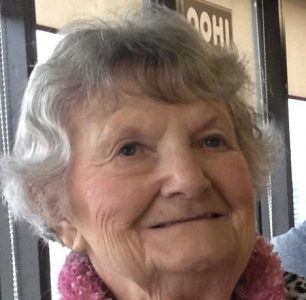 Virginia Sherraden Parsons, age 94 passed away on February 5, 2021 in Mesa, Arizona. She was the youngest of nine children born to Arthur and Mabel Sherraden. She was raised on the farm outside Chapman, KS and graduated from Chapman Union High School. She met Donald Kauffman in high school and they were married in July 1946 after he returned from the war.
In the early years, Virginia worked for Southwestern Bell in Abilene Kansas and unbeknownest to her, she was the dedicated operator to transmit the very first presidential address by President Dwight Eisenhower over the airwaves.
Virginia and Don eventually settled in Lawrence KS in 1960 and raised their family of four girls. Virginia lived in Lawrence, KS until 2013. She was a devoted employee of JC Penney's for over 25 years and also had her own book store in the 1970s "The Malls Book Store." Virginia loved books.
She was very involved in the Trinity Episcopal Church for most of her years in Lawrence and was instrumental in starting the Trinity Food Pantry with her husband Dave Parsons.
Virginia loved music, reading and the Kansas Jayhawks basketball team!
She is survived by her daughters, Cindy Hovik, Nancy Powell, Danette Hayes and Carmela Shepard. Her six grandchildren, Lacey, David, Makayla, Kylie, Kelly and Kennedi were the light of her life as were her 6 great grandchildren. Virginia is predeceased by her husbands Don Kauffman (1984) and Dave Parsons (2012).
A graveside service in Abilene KS is planned for later in the year.