KU and the problem of the fraternity secrets it keeps
photo by: Richard Gwin
Keeping fraternity secrets can be quite a burden, I'm told. I wonder if Kansas University leaders are feeling that burden these days, because KU currently is in the fraternity secret business.
As we've previously reported, two KU fraternities — Delta Tau Delta and Phi Beta Sigma — have been placed on probation for violation of the university's hazing policy. When a reporter learns of something like that, there's a pretty logical next question to ask: What did they do? So, we asked it, and then KU officials responded by providing us documents that were most useful in illustrating the power of a black marker.
The documents were heavily redacted. They provided no meaningful information about what conduct was deemed to be in violation of the university's student code. We have no idea whether the hazing activity involved required new members to do extra cleaning duties or whether they were of a more serious nature such as "paddle swats," events involving "total or partial nudity," or "required acts that may be considered sexual in nature." All those are listed as possible hazing offenses. KU asked about each one, but shared none of the answers.
KU officials have refused to release the information because they contend it would violate the federal Family Education Rights and Privacy Act, as well as the Kansas Open Records Act. One point to be clear about here is that the Journal-World has never asked for documents revealing the names or identity of individual fraternity members who participated or were victims of hazing. We've acknowledged all along that the release of that information is unnecessary. That's why I found it particularly odd when one of the university's reasons for denying our request for information was because it would constitute "a clearly unwarranted invasion of privacy." KU is concerned about protecting the privacy of an anonymous person? Where does that line of logic end?
But, I'm no lawyer. The closest I come is I occasionally impersonate Matlock, but that primarily is a coincidence in wardrobe. So, I won't spend a lot of time debating the law or even criticizing KU. I'm more interested in criticizing the outcome because it is troubling on a number of fronts. Let's look:
• Crime and punishment: We did not seek this information because we're curious. We sought information about these hazing incidents because the job that readers pay us to do is to be a watchdog. Every organization — whether it be a court of law or an agency of university governance — benefits from having an outside set of eyes that holds it accountable. In America, it is important that the public has confidence that the punishment fits the crime. If the public receives no details about the crime, it is impossible to know whether the punishment fits. Granted, this isn't a court of law and hazing isn't necessarily a crime — although some of the actions KU asked about conceivably could be. But KU is a public institution, which means it is the public's responsibility to hold it accountable. If the public doesn't, no one will. In this case, the issue goes beyond whether individuals were treated fairly. One of the fraternities, Phi Beta Sigma, is a small African-American fraternity. The other fraternity, Delta Tau Delta, is not. Did KU hold the African-American fraternity to the same standards as it did the other fraternity? I have no information that it didn't, but of course, I don't have very much information. I could just trust KU treated both groups fairly. I also could just trust all government entities, throw away my pencil and notepad and call it a career.
• Fairness to fraternity members: You can argue that KU is doing no favors to the members of these fraternities. Remember, the issue has never been about releasing the names of these members to the public. But certainly there are people on campus who know the identity of some of these members. There are times these members self-identify themselves. KU has now publicly announced that these two fraternities conducted hazing. That means some members did things they shouldn't have, and some members or pledges had things done to them that shouldn't have been done. KU has now provided a list of the range of activities that may have happened. Some of them are potentially very harmful: paddling, forced nudity, sexual acts. By not providing any information about what actually occurred — again, with no names attached — KU has left it open to the imagination. I tell sources frequently that if they choose to create a vacuum of information, it will be filled by the public. I'm not saying that is fair, but it is human nature.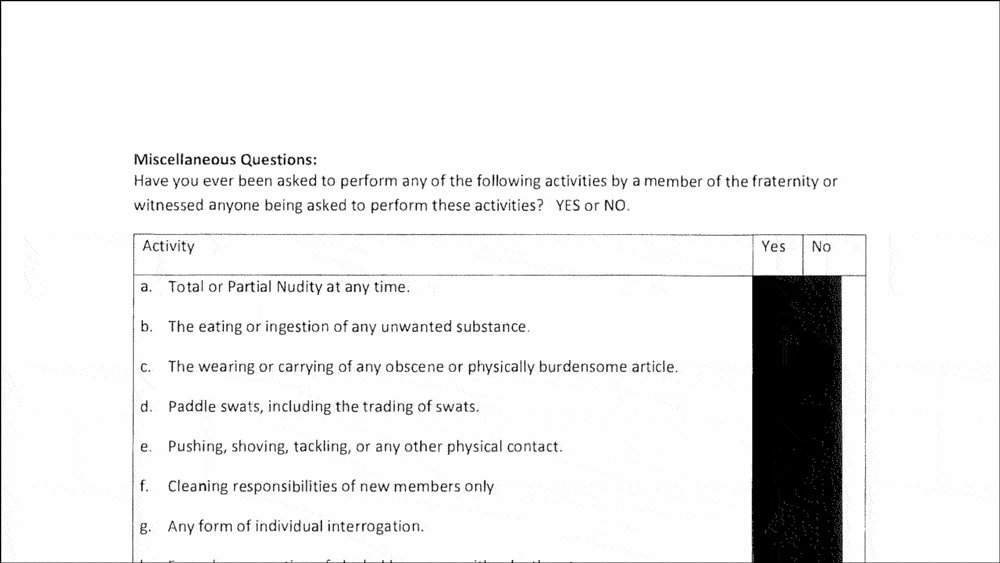 • Fairness to students and parents: Imagine if you are a student who is contemplating joining one of these fraternities. Would you like to know what hazing activity took place? Imagine you are a parent of a student who is contemplating joining one of these fraternities. Would you like to know the hazing activities that took place? There's also the issue of information that parents of current members are entitled to know. KU has told us that parents of current members have no more access to KU's findings than the general public does. Sure, parents could ask their sons what happened. It should be noted, however, that the parenting strategy of "ask and you shall receive" has been shown to have inconsistent results.
I wonder whether KU leaders think this outcome is right. Does the university believe that the public, future students, parents of future students should have access to this information? It seems that KU's answer to that question would say a lot about how the university views its partnership with those key groups.
I've chatted with some university officials involved in this matter, and I don't have a clear sense of where they stand on this. I think they do feel hamstrung by the law, and I can understand how organizations like KU use an abundance of caution when complying with the law.
But that shouldn't ever stop the university from speaking out when it thinks a law does not serve the university or its constituents well. Here's hoping the university directs its lobbying team to seek changes to the law to make it clear that a public university has the right to release information about why it sanctions student organizations.
It is information the public deserves to know.
— Chad Lawhorn is the managing editor of the Journal-World. You can read his Town Talk columns each weekday at LJWorld.com
---
Related story: KU response to newspaper's records appeal reveals little more about fraternity hazing