LJWorld.com weblogs Social Media Blog
Getting glam with social media
Note: Today's post is from Samantha Schwartz, former "Double Take" columnist for LJWorld.com who's returned for the summer from Grinnell College as our social media intern. Thanks, Samantha!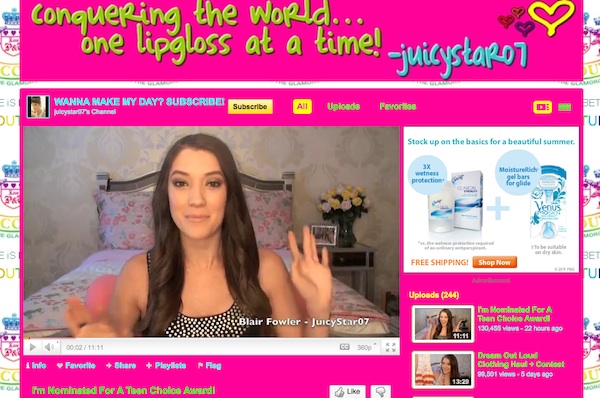 Have you heard of Blair Fowler? Maybe not, but she has a loyal following of 764,871 fans on YouTube, and her videos have been watched upwards of 142 million times. Better known as juicystar07, Blair makes beauty videos on YouTube. She's not one of a kind, but she's certainly one of the more famous "Beauty Gurus" on social.
I was tipped onto the phenomenon by my younger sister, Kendra, who began as a fan of Blair and the other gurus, and now has her own channel. So, what exactly are these girls doing? They post videos of themselves doing hair, nail, makeup and fashion demos, and they share helpful tips with their subscribers. When they get famous enough, (to rattle off a few: Michelle Phan, BubzBeauty, Macbarbie07, meganheartsmakeup) YouTube "partners" with them, allowing them additional features and in turn advertising in 30 second segments before the videos begin. Call it stupid or shallow if you want, but we have a lot to learn from the Beauty Gurus about social media.
Apply their tips to your own social media marketing plan:
Create a social media empire: In addition to her YouTube channel, Blair has her own website, Facebook fan page, online store and vlog channel to document her daily life. She stages meetups with her fans, and she holds contests and giveaways using the free products sent to her by beauty companies hoping for free advertising. She's appeared in Seventeen magazine, met loads of celebrities, and she and her sister Elle were the youngest makeup artists ever to work at New York Fashion Week. In other words, she's everywhere. And while you may not have the time to devote to a detailed social media presence on every channel there is out there, chances are with some research you can find the media that speak to your customers best. Where to start? Ask them where they'd like you to be. It could be as simple as making a tally sheet at your cash register and asking every buyer who comes in, or sending an email or postcard to your existing customer database sincerely asking for their opinions. (If you add a little incentive for responding, even better! You are asking for some of their time and help, after all.)
Be timely: Remember when all you had to do to get the word out about your product or service was stick a sign out on the street? Social media is about as far from that as you can get. The average Facebook user (according to Facebook's own statistics) has 130 friends, which means that every time that person logs on to Facebook they're seeing a whole different set of posts in their news feed. If your carefully-crafted post only sees the light of day at 8:30 on a Monday morning, the user that logs in on Wednesday afternoon won't see it. So in social media, timely means two things: both the relevance of what you're posting in regards to the rest of the day's news for your audience, and when and how often you're posting. Again, ask your audience when they'd like to hear from you; and, if it's easier for you to manage, consider using social scheduling tools to get your audience that info when they want it.
Find your niche: If you still think beauty blogging is silly, look back up there again at Blair's numbers. We all have our niche interests and hobbies, so how can your business or organization make the most of that? Even if you're selling the most generic widget possible, there's still a niche for you; it's just a matter of finding it. Even something as humble and potentially boring as, say, a screwdriver can be used to build an amazing child's playhouse, a deck chair for your grandpa or a Habitat for Humanity house for a homeless family – all of which are stories that can grab the attention of audiences you may have never known you had.
Do you follow any social media beauty gurus - or experts in any other niche interest, for that matter - with an eye toward adapting their strategies for your own? What's the most unlikely source of social media inspiration that you've found? Let us know in the comments.