LJWorld.com weblogs Seen it?

The million comment countdown: Let the counting begin
By this time, you're probably tired of me talking about the millionth comment contest.
Well, all the predictions are in. When it was all said and done, we received 150 official entries. No telling how many unofficial guesses were posted.
Now, we're making it easier than ever for you to watch as your dreams are crushed — or come true — with comment counters on our front page and next to every comment you post.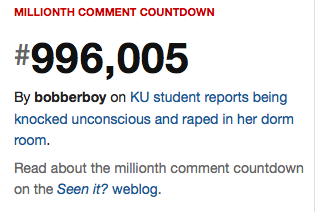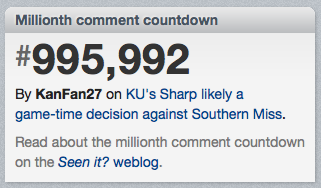 I guess I can make my prediction known now as well. I predict we hit the milestone at 11:30:17 a.m. Thursday (09/24/09). I suppose it's not fair though, because I have easy access to all the trend data we could accumulate to help guide me in my decision.
News on the prizes (yes, we have a whole prize package) between now and when we hit the milestone. Happy commenting.