LJWorld.com weblogs Culture Crumbs

'Top Chef' and 'Project Runway' contestants not here to make friends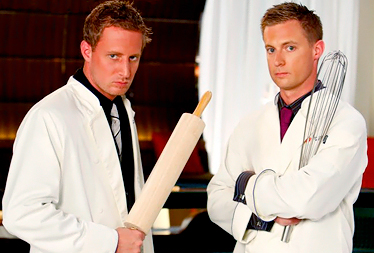 Welcome to the "I'm not here to make friends edition" of the Top Chef/Project Runway blog.
We're getting down to the end of the season and the contestants are grating on each other more than usual, the competition is getting closer and the stress/sleep deprivation are making our favorite contestants a little punchy, to say the least.
Punchy enough to pick out the most cliched line in all of reality television "I'm not here to make friends."
Finally uttering that storied line is none other than Robin on "Top Chef" — and I'm actually shocked she made it this long without saying it. No one has liked Robin from the moment she won immunity the very first day. Later, her personality quirks, apparent sub-par food and the age difference (she's in her mid-40s, most of the chefs are late 20s or early 30s) made her somewhat of an outcast. OK, that's an understatement — it made her the one everyone jokes about and no one wants to work with. Poor gal.
Well, she has taken to wearing this banishment as a badge of courage. And after a much-teased dustup with Eli, in which he informs her that she's not his mom, Robin stated that often used line, "I'm not here to make friends."
Of course, that's her spin on things. My spin? "I'm using this cliché I've heard as an excuse because I can't admit that I might just be a tad bit annoying, grating and untalented." Take it or leave it.
Over yonder on "Project Runway" we didn't get that line this week, though it was in the tease for next week's show. In the clip, Nicolas, states the somewhat obvious — beeyotchy Irina isn't here to make friends. To which I say, "Well, duh."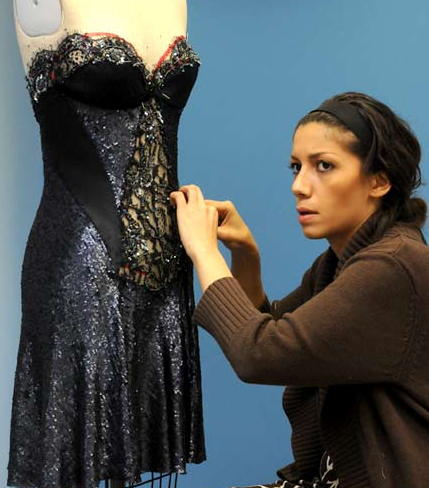 Irina has been a mean (skinny) cow from the beginning and doesn't even pretend to like anyone on the show or enjoy the opinion of anyone else. Yes, she's a good designer. Yes, she's pretty. Yes, yes, yes to all of that. And yes, it's very clear — so clear she doesn't even have to say it — that she's not on the show to make friends.
In Thursday's episode she told her model that he is really annoyed by Carol Hannah in all her melty faced cuteness. While Carol Hannah was like 8 feet away. Hmmm, high school much? Whatever man. Carol Hannah does great work without the attitude and she's captivated the hottest guy ever (?) to hit "Project Runway" — Logan the emo boy from Seattle. We got more of their flirting last night in which Logan asks Carol Hannah if he's distracting her. Logan, no offense, but that's like asking Irina if she's going to send out holiday cards to the other contestants. Yes, you are quite distracting to Carol Hannah and pretty much everyone else except Irina because of your ambiguous hotness.
Obvious.
Anyway ... also obvious was the fact that Shirin was past her expiration date on "Project Runway" and that Christopher clearly can't rev back up to speed after getting criticism the past two episodes. Both ended up in the bottom again, this time because they couldn't pull off a showstopper challenge without making things either recycled (Christopher) or trashy (Shirin).
The assignment was to design a stage outfit for Christina Aguilera (!) in the style of sequins-and-feathers man Bob Mackie.
Overconfident were Nicolas, who has done work like this before and idolizes Mackie, and Christopher, who cooked up a big reveal he hoped would impress because he's got some, um, confidence issues. (He whined on camera that he's never designed for stars before, which I think is kind of the point if you're on a reality show and not Rodeo Drive.)
Less confident were Shirin (despite her good work last episode), Gordana (who was REALLY lucky to have immunity), Logan (who apparently has no clue about Miz Xtina) and Carol Hannah who designs Southern gowns, not sequin-and-feather museum pieces.
Ironically, though quite distracted and terrified, Carol Hannah put together the most beautiful piece of them all — beating out Nicolas with a black masterpiece for the win. She didn't get immunity, but she did get a vague promise from Christina that she'd wear the outfit at some point and a chance to annoy Irina another day.
Shirin was the unlucky loser, sent home for something Heidi likened to a witch costume for Halloween. (Maybe Shirin will be wearing it come the 31st?)
Over at "Top Chef" things were much more cut and dry. The top four chefs have been the clear top four from day one: Kevin, Jennifer and the Voltaggio brothers, Michael and Bryan. And the bottom three were folks who have been in the bottom most of the time: Robin, Laurine and Ash.
The challenge was to create a tasting dish pared with a specific wine at a party called "Pigs and Pino" — hosted by celeb chef Charlie Palmer (who has mentored both Voltaggios).
Tailor-made for this challenge were the four top folks — The Voltaggios because they know what Palmer likes, Jennifer because she had been motivated by a botched piggy dish in the episode's quickfire and Kevin because he's got a freaking pig TATTOOED on his arm. No surprise that pig tattoo guy won the challenge. Also no surprise that Ash was sent packing. He'd had several close calls in the past and had never really impressed anybody except with his self-deprecation.
Of course, all the chefs wanted Robin "I'm not here to make friends" Leventhal to go home, but to their dismay, she'll be around to make real enemies next week in the beloved annual "restaurant wars" episode. There's footage of the Voltaggios yelling at her, and boy, are they cute when they're mad.
Random thoughts:
• I was super impressed by Christina Aguilera as a guest judge. Not only was she knowledgeable, but she was kind, gracious and totally got it. Surprised and I want more of her around!
• The extra footage of the Voltaggios digging into Eli and pretending that he flirted with Robin was fantastic.
• Kevin is going to be really hard to beat if he can keep turning out dishes like he does. Such a variety, such humility, such teary eyes when he get compliments.
• I really hope Irina gets slapped sometime this season. In fact, if I could go back in time, I'd fly to New York, slap Irina and then have lunch somewhere fabulous (a "Top Chef" contestant's restaurant perhaps?)
• And finally, a highlight reel of that storied battle cry...