LJWorld.com weblogs Culture Crumbs

Project Runway: What came first, the chicken or the egg?
http://worldonline.media.clients.ellingtoncms.com/img/blogs/entry_img/2009/Aug/28/Shirin_and_Malvin.png
OK, so we all know as viewers how long we've waited to see this season of "Project Runway." It was filmed a loonnnnnnnng time ago. And the time lag was front and center in Episode No. 2.
Host Heidi Klum introduced the challenge to the designers by saying they would be making an outfit for a supermodel. A supermodel with a TV show. Of course, this made one of the contestants venture as to if it could be Heidi they were designing for.
Hmmm, more on the irony of that later.
Well, it turned out that they weren't in fact designing for Heidi, but for former supermodel/current "Ugly Betty" star Rebecca Romjin. The challenge? Romjin was pregnant with twins.
I say WAS because Rebecca had her twins, Charlie and Dolly, on Dec. 28. They're a month younger than my own son and, man, does being pregnant feel like EONS ago.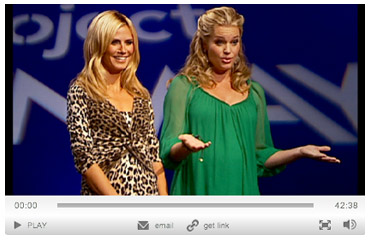 Now for the irony: Heidi is currently pregnant with her fourth child, due this fall.
So, yes, fair contestant, you could have been designing for Heidi, who is about as pregnant now as Rebecca was WAAAAAY back then.
Anyway, for most of the designers this presented the kinds of problems only seen during menswear week (I can still hear the shrieking of past contestants ringing in my ears). When the designers got to the work room after the challenge was announced, there were little pillows sitting on each designer's work table. Of course, the pillows were meant to be strapped to the mannequin and model to simulate a late-stage baby bump.
Um, just so you folks know, that pillow does NOTHING to simulate what happens to your body and clothes while pregnant. It doesn't simulate the weight you gain outside your middle, like, say, in your arms and legs and face and fingers and toes and, well, you get the idea.
Some designers didn't know where the heck to put the pillow on their mannequins. And these are folks who are used to designing for women. (You think they were wishing for a menswear challenge while decompressing in the green room?)
However, some designers did get it. And they got it good. No surprise, the top three were all women designers. Albeit, it was not women who had been pregnant, but it's still no surprise. The winner, Shirin, made an absolutely beautiful dress with a braided detail that was just gorgeous. I would have been more than pleased to wear that dress to a wedding when I was pregnant. And she even paired it with a coat, which as every pregnant woman who has ever hated her bloated arms knows is a GOOD thing.
A side note: Shirin, I want to like her, I really do. She makes pretty clothes and seems nice. But I feel that she wants me to like her more than I want to like her. She has sort of a beauty pageant neediness about her - I kind of see her like Eleanor Rigby and think that maybe she goes home at night and takes her smiley face off at the door. (A face that really does seem like a skewed version of Penelope Cruz's, by the way, not a bad way to be, of course). Hmmm, did Tracy Flick make her own clothes in "Election"... ?
It was no shocker that she won. Her dress was hands-down the best.
However, on the other end of things, there were several bad outfits. Ra'mon-Lawrence's outfit screamed bowling bag. Seriously. And Mitchell's shorts wouldn't be appropriate for anyone in any situation anywhere. Too short, too messy, too flouncy, too, too, too!

But the worst offender was Malvin, though, in my opinion, he was set up to fail nearly as much as our K.C. girl, Ari, was in the first episode. Ari was not the type of designer who's meant for the red carpet. She's just not. And for Malvin, he of the unisex ideal, designing an outfit that in no way could be androgynous proved to be a major problem. There's nothing unisex about the roundness of being pregnant.
So Malvin did what such a person would do in this situation - he made the situation cartoonish. He decided to go with a chicken-and-the-egg theme, including an original concept of "chicken thigh" pants that made adviser Tim Gunn nearly choke on his tongue. Note to Malvin: Pregnant women don't want to do anything to make their thighs look bigger. Bad, bad, bad idea.
Also a bad idea? The rest of the concept he didn't scratch, which included a black feathered top and bottom piece with the model's middle wrapped in contrasting eggshell-colored fabric to make an "egg" that looked like a fashionable Baby Bjorn.
The judges - Heidi, Rebecca, Nina Garcia and Monique Lhuillier - have all been pregnant. They all know what it's like to be the "chicken" in Malvin's concept and really, they weren't exactly enthralled with the idea of looking like they were wearing a baby sling before having the baby.
See ya, Malvin. After his exit, he wondered into the camera "I'm too conceptual for America" ... where would he not be "too conceptual" - the planet of the ambiguous?
Of course, Ari's and Malvin's early exits make me wonder why the producers even include designers so off the beaten path that they might as well have Martian passports. It just seems silly to give these folks hope of the big time with a spot on the show only to parade them around like circus freaks before deciding that they just aren't going to make it in the commercial fashion business.
I suppose this is a reality show after all and there really are these folks out there in the fashion world, but are they really going to win a mainstream show with such avant-garde fare? On this show there's a fine line between creative (winners like Jay, Christian and Jeffrey) and then there's just weird (poor Ari and Malvin and folks like the especially loopy Elisa from season four).
Why even bother if you know they aren't going to get beyond their own bizarre interpretation of the world?
Which brings me to another point, which six seasons in, I shouldn't have to be making: To be on "Project Runway" you must be able to sew. And sew fast. Speed and accuracy are key and anything that's done haphazardly is going to be eaten to shreds by the judges. Which makes me wonder why producers don't cut folks down by giving them a sewing challenge first. There's always somebody who hand-sews everything or has worked enough commercially that they have gotten used to someone sewing for them.
Case in point: Mitchell. For the second straight week he was in the bottom two. Last week, it made sense because he sent his model down the runway pretty much naked. But this week, it was clear that our Perez Hilton lookalike, a creative director from Savannah, who happens to have designed maternity wear commercially may not actually be able to sew maternity wear competitively. His outfit hinted at something city chic - with a stretchy top, shorts and cape thingy - but instead it just looked like "a mess" as Heidi put it.
Random thoughts:
Is it bad that I was excited when I could see the models' skin imperfections? I mean, they're models, we're not supposed to see that right?

I have a feeling that if Mitchell survives next week, he's going to hang around a bit too long.

What is with the confidence crisises so early? Ramon-Lawrence stop freaking out, when you do, you end up making a pregnant lady look like a bowling bag. Go with your gut, my friend.

I'm kind of thinking Ari's space diaper outfit would have been a bit more appropriate this week.
Yes! You can now watch the full episode online.