Topeka — U.S. Sen. Pat Roberts said Friday that he regrets a vulgar remark President Donald Trump reportedly made the previous day, referring to African nations as "shithole" countries.
"It's most unfortunate," Roberts said in an interview. "Allegedly it's an off-hand remark, but even that, it's most unfortunate. I try to stick to my business, committees, and get us a good farm bill. I've worked with the president. He's been very personable. That kind of language wasn't used. So I regret it."
According to several national news outlets who cited multiple sources, as well as a Democratic senator who was present, Trump made that comment during a White House meeting in response to a bipartisan proposal on immigration that would include protections for so-called "Dreamers," undocumented immigrants who were brought to the United States as children.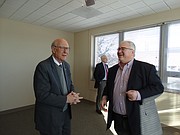 The Trump administration has already begun phasing out an Obama-era program known as DACA, or Deferred Action for Childhood Arrivals, which protected those people from deportation as long as they met certain qualifications.
Roberts was in Topeka Friday touring some newly renovated senior apartment units in a building that was formerly the Santa Fe Hospital. The conversion from a hospital into apartment units is being partially funded with federal tax credits. Roberts worked to prevent those credits from being repealed in the tax bill Congress passed in December.
Speaking with the Journal-World after the tour, Roberts said he found Trump's remarks out of character for the president.
Asked whether he agrees with people who have suggested Trump may not be mentally fit for office, Roberts acknowledged those suggestions but rejected the idea.
Describing meetings he has had with Trump, Roberts said, "He's been very personable, very knowledgeable. If you try to sneak something by him with regards to our trade policy, which I'm very concerned about, he knows it.
"He acts very presidential when you visit with him. I've had over an hour visit with him," Roberts added. "I went with him to Nashville where he talked to the American Farm Bureau and did a good job. I just don't think that that shoe fits."
Roberts said he was not part of the bipartisan group that presented Trump with the immigration proposal, but that he supports immigration reform, as well as reinstating some kind of program similar to DACA.
"I think everyone wants to find a way to be of assistance to the DACA people, the immigrants who are here, usually young people who were brought over who are now here. But I think the president wants in return something to stop this chain immigration and the lottery system. We don't have any security there."
Chain immigration refers to people who come to the country legally and have work permits, then petition to have their whole families admitted into the country.
Copyright 2018 The Lawrence Journal-World. All rights reserved. This material may not be published, broadcast, rewritten or redistributed. We strive to uphold our values for every story published.