Trevor Mohawk was a big person with a big personality — and a big laugh that friends and co-workers say will be missed.
Community members who knew Mohawk say they are shocked and saddened by the death of the 32-year-old Lawrence man, who was killed in a shooting early Wednesday morning on the porch of someone else's house in East Lawrence. The Lawrence Police Department's investigation into the incident remained open on Thursday, police said.
"We're just hurting that it happened," friend and former roommate Tyler Kimbrell said, adding that the finality of the situation was hitting hard. "...This is something that you can't take back."
Mohawk, originally from Wisconsin, had come to Lawrence to attend Haskell Indian Nations University about 10 years ago, and stayed.
He was kitchen manager at Jefferson's Restaurant, 743 Massachusetts St., where he had worked about six or seven years.
General manager Rachael Dowding said Mohawk was well-loved there.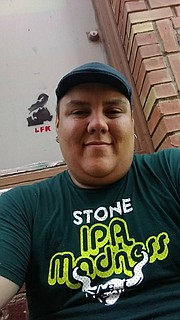 "It won't be the same without him," Dowding said. "His laugh was really contagious; you could hear it throughout the entire restaurant."
The restaurant reopened on Thursday, after closing for business Wednesday, explaining in a sign posted on the door: "We lost one of our crew members last night. We are a family here and we are all taking it pretty hard."
Haskell lit a fire in the campus fire circle on Thursday in memory of Mohawk, with cedar and tobacco placed next to the circle in accordance with Native American custom.
Kimbrell said that he'd been Mohawk's roommate in the dorms at Haskell and later in a house off campus with a couple of other friends. Mohawk got his associate's degree in media communications at Haskell, then attended the University of Kansas for a while, Kimbrell said.
Mohawk was big — Kimbrell estimated he stood about 6 feet 4 inches tall and weighed close to 300 pounds.
He may have been "physically imposing," Kimbrell said, "but that was not who he was." Kimbrell said Mohawk didn't seek out trouble, and he was known as a "jokester."
"He had a very outgoing personality, and people loved him for that," Kimbrell said. "He was always laughing."
Facebook posts about Mohawk pouring in since his death painted a similar picture: a big personality who made people laugh.
Kimbrell said he's not sure what Mohawk was doing the night of the shooting.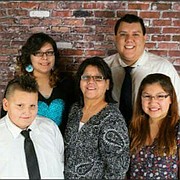 However, Mohawk, who did not have a car, lived less than two blocks south of where the shooting happened and could have been walking home from a night out, Kimbrell said.
Dowding said he didn't work that night at Jefferson's because it was his day off.
The shooting happened shortly after 1:30 a.m. Wednesday on the front porch of a house at 1129 Connecticut St.
According to Lawrence police, the residents of the house — a 44-year-old man and a 45-year-old woman — were awakened shortly before 1:30 a.m. by sounds of someone on their front porch.
Police said the male resident armed himself with a gun, went outside and encountered Mohawk. That encounter escalated into a physical fight.
The resident shot Mohawk on the front porch of his house, Sgt. Amy Rhoads said.
Mohawk suffered multiple gunshot wounds and was taken to a hospital, where he died, police said. The resident — whom police interviewed following the incident — had injuries "consistent with a violent confrontation" and was examined at the hospital and released Wednesday, police said.
The resident and Mohawk did not know each other, police said.
Rhoads on Thursday declined to release additional information from the police investigation, including whether police had determined if Mohawk had a gun at any point during the incident, or more about the men's interaction before the shooting.
The police investigation remained open on Thursday.
"This case is still an active investigation," Rhoads said Thursday afternoon. "Once the investigation is completed, the case will be sent to the district attorney's office for review."
Douglas County District Attorney Charles Branson, along with at least three assistant district attorneys, did visit the scene Wednesday while it was still secured by Lawrence police.
That's common practice for "major incidents," Cheryl Wright Kunard, assistant to the DA, said in an email response to the Journal-World.
"Scene viewings give the prosecutors a better understanding of how events unfolded and makes information contained in law enforcement reports more meaningful when reviewing a case for charges," Wright Kunard said.
Several neighbors told the Journal-World previously that they did not see the incident but that some heard noises. One next-door neighbor, who had been awake feeding her baby, said she heard three gunshots and the police arrived very quickly after. Another next-door neighbor said some loud noises, possibly the sounds of fighting or pounding on the side of the house, woke up his mother.
On Thursday, no one answered the door at the house where the shooting occurred. Several candles had been placed at the base of a utility pole in front of the house.
Neighbors said that they believed the couple who lived there the past year or two were members of the military and that they had not observed any problems at the house since the couple had moved in.
Contact public safety reporter Sara Shepherd
Have a tip or story idea?
785-832-7187

---

More stories
Copyright 2018 The Lawrence Journal-World. All rights reserved. This material may not be published, broadcast, rewritten or redistributed. We strive to uphold our values for every story published.