Topeka — More than 50 people from 16 public agencies in Kansas were honored Wednesday for their services performing water rescues in Texas during the aftermath of Hurricane Harvey earlier this month.
Gov. Sam Brownback, Lt. Gov. Jeff Colyer and Adjutant General Lee Tafanelli publicly thanked those individuals during a ceremony outside the Statehouse Wednesday, in front of some of the watercraft they used in the mission.
"We are proud of these individuals who were ready and willing to help when called upon. They were prepared with specialized swift water rescue training that allowed them to be of service in this unique kind of disaster," Brownback said in a statement. "We thank them for their talents, abilities, and willingness to help others."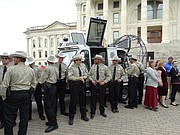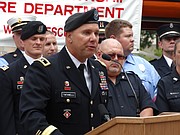 Kansas teams searched nearly1,200 structures and evacuated 27 individuals between Aug. 30 and Sept. 5. They worked mainly in the area of Kathy, Texas, with teams from Oklahoma, Tennessee and Missouri.
In total, Brownback's office said in a news release, the joint operation resulted in the more than 100 evacuations and the searches of more than 4,000 structures. The teams also worked on other small assignments.
Among the state agencies sending people to Texas were the Kansas Department of Emergency Management, the Department of Wildlife, Parks and Tourism, the Army and Air National Guard, the State Fire Marshal's Office and various local fire departments that have formed disaster-oriented search and rescue teams.
"I am proud of the men and women from the many different Kansas organizations who did not hesitate when called upon for hurricane relief," Tafanelli said. "I am especially proud that the Emergency Management Assistance Compact, which guides the coordination of all these resources across the country, is once again being managed right here in Kansas by the Kansas Division of Emergency Management."
"What these brave men and women accomplished in serving our neighbors in Texas is a remarkable feat of collaboration and caring," Colyer said. "They have represented our state well and we thank them for serving."
Copyright 2018 The Lawrence Journal-World. All rights reserved. This material may not be published, broadcast, rewritten or redistributed. We strive to uphold our values for every story published.