OVERLAND PARK — For several stretches Friday, Lawrence High's defense had trouble slowing down Shawnee Mission West.
Clinging to a seven-point lead in the final minutes, the Lions asked their mostly young defense for a key stop.
With LHS football players and coaches shouting instructions from the sideline, the Lions' defense stepped up when they were backed into their own territory and secured a 35-28 victory at SM South District Stadium.
On SM West's final possession, the Vikings (0-4) converted on a pair of fourth downs and reached the 22-yard line with an opportunity for the game-tying score. On 4th-and-8, the 15th play of the drive, the Lions burst into the backfield and junior defensive end Eric Galbreath brought down SMW quarterback CJ Callaghan for a sack.
It was the team's fourth — and most important — sack of the night, giving the defense plenty to smile about afterward.
"Too much adrenaline pumping through our blood to even think, honestly," LHS junior linebacker Caleb Mondi said of the last drive. Mondi recovered a fumble in the first half and made a key stop on a first-down run play before Galbreath's sack.
Photo Gallery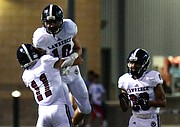 Lawrence High football vs. Shawnee Mission West
The Vikings, who mostly ran the ball the entire game, scored on a 26-yard touchdown pass with 6:30 left in the fourth quarter, cutting their deficit to one touchdown.
Lawrence's offense, which scored on four straight possessions in the first half, stalled after a false start penalty and was forced to punt, setting up the defense's dramatic stand.
"Our offense is doing an amazing job," Mondi said. "Our defense just needs to step up."
The Lions (3-1) trailed 14-0 within the first eight minutes, watching SM West senior running back Kirby Grigsby (35 carries, 235 yards) score on a pair of touchdown runs.
Afterward, defensive players huddled up and talked about becoming more physical. The Lions allowed 20 points in the first half and told each other they needed to be better during halftime.
"A lot of words that probably couldn't be said out here," junior defensive end Sam Bart, who had two sacks, said of the halftime message. "We have to motivate each other and that's what we did."
Lawrence's offense had trouble running the ball in the opening quarter, which only led to senior quarterback Dante Jackson showing off his arm.
The 5-8, 155-pound Jackson (9-of-12 passing for 135 yards) completed his first five passes, including three of them for touchdowns. Jackson connected with seniors Jalen Dudley and Ekow Boye-Doe on a pair of deep passes, and he found junior Brett Chapple in the back of the end zone when he rolled out to his right on a nine-yard toss.
Near the end of the first half, senior running back Hunter Krom, who returned from an injury he suffered in the team's second game, scored on a three-yard run. Krom and Jackson combined for 232 rushing yards and two touchdowns on 40 attempts.
"It's been a really long, tough week," Lawrence coach Dirk Wedd said. "A lot of things going on. I did a terrible job of coaching this week and then we came out flat. Again, my fault. But the kids are so resilient. Being down 14-0 before you know what hit you, I was so proud of the way we came back."
Lawrence 35, Shawnee Mission West 28
LHS | SMW
First downs 13 | 17
Rushes-yards 43-236 | 52-213
Passing yards 135 | 91
Total offense 371 | 304
Fumbles-lost 2-0 | 3-1
Penalties-yards 6-50 | 3-25
Score by quarters
Lawrence 7 21 7 0 — 35
SM West 14 6 0 8 — 28
Individual statistics
Rushing
LHS: Hunter Krom 18-102 TD, Dante Jackson 22-130 TD, Ekow Boye-Doe 1-0, Jalen Dudley 2-4.
SMW: Kirby Grigsby 35-235 3 TD, Wyatt Mason 7-13, Clark Wesley 2-7, CJ Callaghan 4-negative 28, Wyatt Christian 1-negative 10, Reggie Edwards 3-negative 4, Team 1-negative 13.
Passing
LHS: Jackson 9-12—135 3 TD.
SMW: Callaghan 9-17—91 TD.
Receiving
LHS: Dudley 4-57 TD, Boye-Doe 2-39 TD, Brett Chapple 1-9 TD, Krom 2-30.
SMW: Wesley 4-35, Branson Billinger 3-47 TD, Mason 2-9.
HOW THEY SCORED
First quarter
6:47 — Kirby Grigsby 5 run. Ray Chavez kick. (SMW 7, LHS 0.)
4:13 — Grigsby 35 run. Chavez kick. (SMW 14, LHS 0.)
3:08 — Jalen Dudley 41 pass from Dante Jackson. Ross Brungardt kick. (SMW 14, LHS 7.)
Second quarter
11:54 — Brett Chapple 9 pass from Jackson. Brungardt kick. (LHS 14, SMW 14.)
9:22 — Ekow Boye-Doe 38 pass from Jackson. Brungardt kick. (LHS 21, SMW 14.)
4:47 — Hunter Krom 3 run. Brungardt kick. (LHS 28, SMW 14.)
0:37 — Grigsby 6 run. Chavez kick blocked. (LHS 28, SMW 20.)
Third quarter
4:15 — Jackson 24 run. Brungardt kick. (LHS 35, SMW 20.)
Fourth quarter
6:30 — Branson Billinger 26 pass from CJ Callaghan. Grigsby run. (LHS 35, SMW 28.)
Copyright 2018 The Lawrence Journal-World. All rights reserved. This material may not be published, broadcast, rewritten or redistributed. We strive to uphold our values for every story published.