Police arrested two men — one who allegedly had a gun — at the scene of an attempted robbery Monday afternoon in the 1700 block of Ohio Street.
Both men were charged Tuesday in Douglas County District Court.
Isaias E. Rojo, 21, of Lawrence, was charged with one count each of burglary, interference with law enforcement and criminal possession of a firearm by a convicted felon, all felonies, according to the charges.
Geryan J. Murdock, 19, of Lawrence, was charged with one count each of burglary and interference with law enforcement, both felonies, according to charges against him.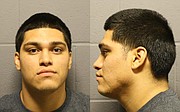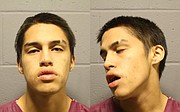 According to Officer Drew Fennelly of the Lawrence Police Department:
Officers were dispatched to a report of a burglary in progress shortly after 3:30 p.m. Monday at an apartment in the 1700 block of Ohio Street, which is about two blocks southeast of the University of Kansas campus. The incident was later determined to be an attempted robbery, Fennelly said, though he said he could not elaborate on what led to that determination, citing the pending court cases.
An officer found one suspect exiting the apartment and "was immediately involved in a physical struggle with him," but the suspect slipped out of his sweatshirt and ran. Officers were able to catch him again after a foot pursuit.
A gun was recovered during the incident.
"During the apprehension of the initial suspect, it is believed that he had a firearm in his hand, which was either thrown or dropped during another struggle that took place after the foot pursuit," Fennelly said.
Police also spotted a second suspect running from the scene and caught him as well. Before being taken to jail, that suspect was taken to the hospital for treatment of a laceration he allegedly received during the robbery attempt.
According to jail records, the men initially were arrested on suspicion of attempted aggravated robbery while armed with a dangerous weapon, for Rojo, and aggravated robbery while armed with a dangerous weapon, for Murdock, but were not charged with those crimes.
An armed robbery — also during daytime hours — was reported at a residence in the same block of Ohio Street earlier this year. The robbery occurred about 12:40 p.m. Feb. 22, and a short time later police stopped a vehicle thought to be connected with the crime and arrested five people, the Journal-World reported at the time.
Contact public safety reporter Sara Shepherd
Have a tip or story idea?
785-832-7187

---

More stories
Copyright 2018 The Lawrence Journal-World. All rights reserved. This material may not be published, broadcast, rewritten or redistributed. We strive to uphold our values for every story published.