A court document indicates one suspect remains at large from a February robbery that ended with two people being attacked with brass knuckles, a Taser and a small bat.
A personal safe, cash and electronics were stolen from a southwest Lawrence apartment by three men and a woman armed with the various weapons, documents say.
Ultimately, three people were arrested, including one former and one current Haskell Indian Nations University students. Although police will not discuss the case, arrest affidavits released recently indicate that one unidentified man remains at large.

Kenda Jayni Benner, 21, and Preston Jadrien Reece, 22, both of Lawrence, and Leonte Joseph Mayhew, 21, of Caney, were all arrested on Feb. 16. Benner faces two counts of battery, one count of robbery, one count of burglary and one count of criminal damage. Mayhew and Reece each face one count of robbery, one count of battery and one count of aggravated burglary.
Benner is a current Haskell student and Mayhew is a former student who recently left the school, said Martin Redlightning, a university spokesman. Reece has never been a student of the school, he said.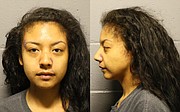 Previously, the Journal-World reported about the arrests of Benner, Reece and Mayhew, alongside the relatively sparse details surrounding the incident in question. Representatives of the Lawrence Police Department have repeatedly declined to say whether anybody was injured, what types of weapons were used or how many suspects investigators were seeking.
The following details are taken from arrest affidavits requested by the Journal-World. Arrest affidavits are documents filed by police justifying an arrest. Allegations made within an affidavit must be proved in court.
In February, Daubon Pena told police he had just returned to Lawrence from his home in Wisconsin, where he spent his winter break, the affidavits say. Pena told police he is also a student at Haskell.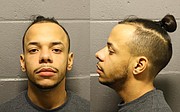 At the time, Pena was couch surfing. He recently broke up with his girlfriend, Benner, and on Feb. 15, he asked a close friend, Shania Leslie, if he could crash at her apartment, which is located in a complex at 1301 W. 24th Street.
That evening, Pena borrowed Leslie's car to go buy cigarettes. On the return drive, he noticed Benner was following him.
Soon, Benner called Pena as she tailed him. She was yelling about a house key.
When Pena pulled over to give Benner the key, she took a small bat and hit both him and the car, the affidavits say. Pena got back into the car and drove back to Leslie's apartment. Once again, Benner followed.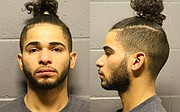 Outside the apartment, Benner went for the small bat again; this time she shattered the car's rear window, the affidavits say.
Around this time, Leslie heard a car honking outside her apartment and quickly realized the noise was coming from her own vehicle.
Leslie told police she went outside to find Benner "hitting and punching Pena with a Taser and brass knuckles."
Pena told police "Benner then went after Leslie with the bat."
Cursing, Benner also hit Leslie "above her left eye with the body of the Taser," the affidavits say.
The two women fought until Pena was able to separate them, the affidavits say. Benner then left the scene and Pena moved Leslie's car to keep it safe from further harm. Eventually, he and Leslie returned to the apartment.
Within about five minutes, however, the apartment's front door was kicked open, the affidavits say. An unidentified man was the first through the door, followed by Benner, Reece and Mayhew.
The three men were armed with brass knuckles and a Taser, the affidavit says.
As the men headed toward him, Pena said he "dropped to the ground and assumed the fetal position," the affidavits say. All three men "repeatedly kicked and hit him" and stole cash from his jacket pocket.
Leslie told police she ran to her room, but Benner followed and forced her way in and attacked her.
Soon, Benner was joined by one of the men and the two continued their attack only stopping "when someone said they found the safe."
The group ran from the apartment with the safe, and Leslie said she followed them to their getaway car.
When Leslie said she tried to make her way into the front passenger seat to reclaim her stolen safe, the driver took off and the male in the nearest seat began to push her away.
"Leslie said she tried to hold on, but the male was able to push her from the vehicle," the affidavits say.
In all, Leslie said her safe was stolen, which held $1,300 in cash, personal identification, a gold chain, three cellphones and more personal documents.
The men stole $90 in cash from Pena, he told police.
Police were dispatched to the scene around 9:30 p.m. and found both Pena and Leslie with multiple cuts and abrasions, the affidavits say. Detectives also found bloodstains in the apartment's parking lot and around the complex, as well as a footwear impression on Leslie's front door.
Inside the apartment, detectives also found a towel and a shirt with bloodstains and a pair of brass knuckles on the bedroom floor, along with drug paraphernalia in the living room and bedroom, the affidavits say. Later, while inspecting Reece's car, detectives found more blood and a gold necklace.
Benner was arrested at 2:32 a.m. on Feb. 16 at her home at 1301 W. 24th St., which is in the same complex as the scene of the robbery. Reece and Mayhew were arrested a few hours later at the same address.
When they were interviewed after their arrest, Benner, Reece and Mayhew offered their side of the story.
Reece told police he and Mayhew were living with Benner at the time, and she returned the evening of Feb. 15 in tears and with a bleeding abrasion over her eye.
"Benner said she'd been jumped by Pena and Leslie outside Leslie's residence," Reece told police.
Benner wanted to return to Leslie's apartment and "have Pena beaten up," Reece told police. Reece and Mayhew agreed to follow "for backup."
Both Reece and Mayhew told police that when they and Benner arrived at Leslie's apartment, they encountered an "unidentified" man, who joined them in breaking into the home and attacking Pena.
The unknown man was the one who kicked the door open and ultimately fled with the safe, Reece and Mayhew said. They believed the safe contained money and drugs.
Their story conflicts with Leslie's, however, and the story of another apartment resident who told police she saw Benner carrying a safe to a car being driven by the unidentified man.
When asked about the remaining suspect, Lawrence Police Department Officer Drew Fennelly said the investigation into the robbery is ongoing and "no additional suspects have been arrested at this time."
Benner, Mayhew and Reece were all booked into the Douglas County Jail and were later released, after posting a $30,000 bond each.
Reece is next scheduled to appear in court on April 17; Mayhew and Benner are both scheduled to appear on April 21.
Copyright 2018 The Lawrence Journal-World. All rights reserved. This material may not be published, broadcast, rewritten or redistributed. We strive to uphold our values for every story published.