Games are still a few weeks away, but Lawrence High football players saw the result of their own competitions Thursday night in the school's cafeteria.
Throughout the summer, players were awarded points from the coaching staff for various activities ranging from attendance, performance in the weight room, volunteer work or even helping freshmen with techniques while lifting weights.
The reward for the top group of players were 12 oz. sirloin steaks served on a plate from their senior teammates who lost the summer long competition. The losing teams were relegated to hot dogs and warm water.
"They knew the criteria so it wasn't just being the strongest in the weight room," LHS coach Dirk Wedd said. "It worked out really good."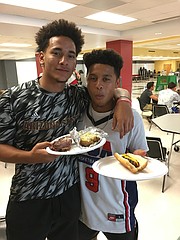 The idea for the summer competition was brought up by assistant coach Jeff Lyster, inspired by college football programs implementing similar internal competitions in the offseason.
Wedd assigned three seniors to the four separate teams, and the players held a draft at the beginning of the summer to pick their team members. The winning team included senior team captains Jalen Dudley, John Ely and Jacob Mills.
In the final week prior to the team dinner, the intensity ramped up during the final competitions.
"It got very competitive actually," Dudley said. "The max-out week (in the weight room) was probably the craziest one. Everyone was hyped…. I think it brings competitiveness to lifting. It makes everyone want to work."
Only a few days from the team's first practice to begin the upcoming season, Wedd was happy to see his team bond over their own competitions.
"They had a lot of fun," Wedd said. "There was a lot of ribbing and I think a couple of them broke down and actually gave some of their buddies a bite of steak."
Dudley added of his steak: "It was really good actually. It had some bacon wrapped around it. It was good."
Copyright 2018 The Lawrence Journal-World. All rights reserved. This material may not be published, broadcast, rewritten or redistributed. We strive to uphold our values for every story published.