Topeka — Gov. Sam Brownback on Tuesday named Sen. Jacob LaTurner, a Pittsburg Republican, to become the next state treasurer in Kansas.
LaTurner, 29, is a native of southeast Kansas and is currently serving his second term in the Senate. He and his wife, Suzanne, have four children and operate a consulting business in Pittsburg.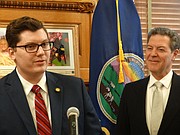 "Jake LaTurner is a dedicated public servant with a keen intellect who will serve the people of Kansas well," Brownback said during a brief news conference announcing LaTurner's appointment.
LaTurner will become the 40th state treasurer in Kansas. He will succeed Ron Estes, who won a special election last week to fill the 4th District congressional seat that was vacated when former Rep. Mike Pompeo was named CIA director in the Trump administration.
The treasurer's office is responsible for managing and investing the state's cash deposits and idle funds. It also manages the state's unclaimed property program and the 529 College Savings Plan known as Kansas Learning Quest. In addition, the state treasurer automatically serves on the board of trustees of the Kansas Public Employees Retirement System.
Estes delivered his resignation letter to Brownback's office on Monday. It takes effect as soon as he is sworn in to Congress, which is expected to be April 25, the day after the state Board of Canvassers certifies the results of the special election.
"Being selected to serve as state treasurer is both humbling and exciting," LaTurner said. "I look forward to getting to work, meeting with folks across the state and continuing the quality work that Kansans have rightly come to expect from their state treasurer."
In the Senate, LaTurner authored a measure imposing a property tax lid on local units of government, preventing them from increasing spending of property tax revenues for many functions beyond the average rate of inflation.
He also sponsored a bill this year that Brownback recently signed known as "Simon's law," which prohibits hospitals from issuing "do not resuscitate" orders for children without their parents' consent.
LaTurner had been considered a potential candidate for the open 2nd District congressional seat in 2018, but he said during the news conference that he now intends to run for a full four-year term in the treasurer's office.
Copyright 2018 The Lawrence Journal-World. All rights reserved. This material may not be published, broadcast, rewritten or redistributed. We strive to uphold our values for every story published.