When Lawrence High's football coaches decided to move to a no-huddle offense during the offseason, Friday's matchup against Shawnee Mission West was exactly what they envisioned.
The Lions sped their offense up and couldn't be slowed down, rolling to a 49-19 blowout victory in the Jungle on homecoming.
Midway through the first quarter, everything went right for the Lions. On defense, senior linebacker Azariah LeBrun and sophomore Eric Galbreath recorded back-to-back sacks. Then the Lions partially blocked a punt, giving them possession at midfield.
On the next offensive play, junior quarterback Dante Jackson connected with junior receiver Ekow Boye-Doe for a 43-yard pass to the two-yard line, setting up a two-yard touchdown run by junior Angel Garcia.
It only snowballed from there. Senior linebacker Santino Gee and Galbreath made tackles in the backfield. One SM West (2-2) pass from senior quarterback Zach Witters was dropped with no defender nearby, saving a likely score.
Photo Gallery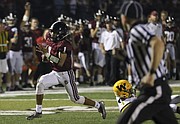 Lawrence High football vs. Shawnee Mission West
Plus, the offense kept cruising. The Lions (3-1) let Jackson show off his arm and he connected with receivers Boye-Doe, Caleb Mondi and Jalen Dudley, including an eight-yard touchdown pass to Dudley at the end of the first quarter for a 20-0 lead.
"Our no-huddle offense, when we get going — it showed tonight — they just can't stop it," said Jackson, who threw for 186 yards, two touchdowns and an interception. "We just have to keep going, going and going. They just get tired and we just put points on the board."
Leading by 14 points at halftime, the Lions scored on their first two possessions of the third quarter for a 34-6 lead.
On the first drive, Jackson hit senior running back James Reeder with a screen pass for a 45-yard pickup on 3rd-and-17, setting up a nine-yard touchdown reception by Boye-Doe — his first varsity score. Boye-Doe, who had five catches for 79 yards, added an interception in the fourth quarter.
After an interception by senior linebacker Erik Shackelford gave the Lions a short field for their second drive, Jackson rushed for a 29-yard touchdown as the Lions continued to march down the field at a rapid pace.
"You can't teach it. You can't have a scout team go at that pace," Lawrence coach Dirk Wedd said of the no-huddle. "We were running a play every three or four seconds. As soon as (the officials) chopped it, we were gone. It gets them in a base defense and it's hard to stop these guys without stunting and stuff."
Playing without senior running back Trey Moore (hand injury) — Moore was named homecoming king at halftime — Reeder said he knew he needed to "step up" on offense. He ran for two touchdowns in the fourth quarter and finished with 144 yards on 24 attempts with monster holes opened up by Jacob Mills, Kristian Russell, Kevin Nichols, Jesse Tunget and Kobe Buffalomeat.
"It was the line and their blocking," Reeder said. "It was amazing. I saw all the holes open up. Without them, I don't get as many yards as I could."
On defense, the Lions were prepared to keep Witters from running outside of the pocket. They swarmed the 6-foot-1 quarterback all over the field, holding him to five rushing yards on 10 attempts and forcing him into two interceptions.
Gee and Unruh added sacks, while senior defensive lineman Mark Greene forced a fumble that was recovered by Gee.
"It's like I told the kids, unbelievable team effort," Wedd said. "The first half may have been as good of a team effort, team result that Lawrence High's had in a long, long time."
Lawrence 49, Shawnee Mission West 19
SMW | LHS
First downs 8 | 19
Rushes-yards 29-185 | 50-283
Passing yards 76 | 186
Total offense 261 | 469
Fumbles-lost 2-1 | 3-0
Penalties-yards 4-40 | 5-40
Score by quarters
SM West 0 6 0 13 — 19
Lawrence 20 0 14 15 — 49
Individual statistics
Rushing
SMW: Zach Witters 10-5, Jason Meeker 10-121 TD, Dre McCallop 4-8, Kirby Grigsby 5-51 TD.
LHS: James Reeder 24-144 2 TD, Angel Garcia 5-35 TD, Dante Jackson 13-74 2 TD, Santino Gee 7-31, Jalen Dudley 1-negative 1.
Passing
SMW: Witters 6-13–76 2 INT.
LHS: Jackson 10-18–186 2 TD and INT.
Receiving
SMW: Amajae Gordon 1-16, Jason Potter 2-21, Isreal Watson 3-39.
LHS: Caleb Mondi 1-6, Ekow Boye-Doe 5-79 TD, Dudley 3-56 TD, Reeder 1-45.
HOW THEY SCORED
First quarter
4:54 — Angel Garcia 2 run. Cole Brungardt kick. (LHS 7, SMW 0.)
1:48 — Dante Jackson 7 run. Brungardt kick failed. (LHS 13, SMW 0.)
0:04 — Jalen Dudley 8 pass from Jackson. Brungardt kick. (LHS 20, SMW 0.)
Second quarter
7:34 — Dre McCallop 97 interception return. Brayden Stanhope kick failed. (LHS 20, SMW 6.)
Third quarter
9:59 — Ekow Boye-Doe 9 pass from Jackson. Brungardt kick. (LHS 27, SMW 6.)
8:31 — Jackson 29 run. Brungardt kick. (LHS 34, SMW 6.)
Fourth quarter
11:44 — Jason Meeker 71 run. Stanhope kick. (LHS 34, SMW 13.)
8:45 — James Reeder 21 run. Brungardt kick. (LHS 41, SMW 13.)
5:07 — Reeder 35 run. Samuel Bart pass from Cade Burghart. (LHS 49, SMW 13.)
2:54 — Kirby Grigsby 5 run. Stanhope kick failed. (LHS 49, SMW 19.)
Copyright 2018 The Lawrence Journal-World. All rights reserved. This material may not be published, broadcast, rewritten or redistributed. We strive to uphold our values for every story published.