After a week of practices in only helmets, Lawrence High and Free State football players were thrilled to put on pads and start hitting this week.
Both schools played at Kansas University's team camp on Monday and Tuesday at Memorial Stadium, scrimmaging against several Sunflower League and area opponents.
"With us having kind of an inexperienced offensive line up front, this really does us wonders for these guys," FSHS coach Bob Lisher said. "They can start to learn from it, work together. Watch it on film when we're done with it, so we can teach them off of that. Every position, but the line especially, offensively and defensively, it should help us tremendously."
The Firebirds and Lions will also participate in Baker University's team camp on Thursday and Tuesday, but they were just happy to fly around the football field and make tackles. The one frequent problem was tackling ball-carriers to the ground, which coaches tried to prevent.
Photo Gallery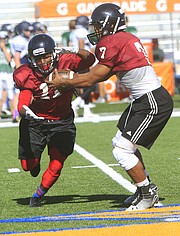 LHS-FSHS at KU football camp
"It was a lot more intensity at this camp," FSHS junior Zack Sanders said, "because I feel like everybody wanted to be known as the best and show the KU coaches how well we were doing.
"It's fun finally getting back into the groove."
The Firebirds played Topeka High and Rockbridge (Missouri), among other teams throughout the two days. Sanders said the heat affected them Tuesday, but everyone was happy with the progress they made.
"So far, so good," Lisher said. "Based on where we're at in the preparation for our season, we're playing OK. Obviously we have to keep improving as we go along. But our first day out in pads, I think we're performing well, the effort, as well. I'm pleased with what is going on."
"It was a really great experience," Sanders added. "We had a really good first day. Our second day was pretty bumpy. But overall, at the end of the day, we came together as a team, and our defense played really well, and nobody ended up scoring on us. So that was pretty good."
The Lions played Topeka High and Shawnee Mission West on Monday morning, which tested them against two teams that made the Class 6A state playoffs last year.
"Yesterday morning, we got knocked around a little bit, and it woke us up," LHS coach Dirk Wedd said. "Afternoon, we played better. (Tuesday) we played well this morning. We're finding out what weaknesses we have, what strengths we have.
"You get in this, and this is a lot more contact. You find out a lot about the toughness of your team and who will fly around the field and hit somebody. It's helped us a lot."
For the Lions to play their best defense, they know they will have to put constant pressure on opposing quarterbacks with their talented defensive line, which returns senior Div. I prospects Amani Bledsoe and Trey Georgie.
Linebackers Price Morgan, Tanner Green, Konner Kelley and Alan Clothier also proved to be strong in the pass rush.
"The key to our football team is going to be, we have four or five really, really good players," Wedd said. "Then we've got six or eight that need to get from average to good, and that'll determine the success that we have."
Copyright 2018 The Lawrence Journal-World. All rights reserved. This material may not be published, broadcast, rewritten or redistributed. We strive to uphold our values for every story published.