Contact KU and higher ed reporter Sara Shepherd
Have a tip or story idea?
---
More stories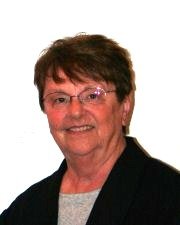 As Bryan Young settles into his new job as director of the Kansas University Honors Program, he can anticipate situations where, as he puts, "Staff and myself will look at each other and think: 'It's time to call Sandy Wick.'"
Wick, currently associate director for the Honors Program, has been a fixture in the program since 1990. In that time she has worked with several directors, countless students and has become what Young calls a storehouse of "institutional knowledge."
Now, with nearly 30 years at KU under her belt, Wick is set to retire this summer after having watched the university and Honors Program grow and change.
Originally from a small town in northwestern Minnesota, Wick began at KU grading papers for professors while she worked toward a master's degree in religious studies. She started teaching western civilization courses in 1987 and, before beginning at the Honors Program, worked in the faculty governance office for seven years.
Some of the changes she has seen in her time are obvious and concrete. Take computers, for example. When Wick started at the Honors Program, the office didn't have computerized records. People would come to her and ask, "'Who are your students?' And I wouldn't have an answer for them," Wick said.
No numbers, no names, no central digital storehouse of information, which all universities rely on these days. At that time it was just Wick, four student hourlies and a secretary keeping things afloat.
The program, which often draws in students who might otherwise head off to Ivy League schools and other academic powerhouses, has grown significantly since. In her time there, Wick has worked closely with students as an instructor, adviser, orientation organizer and general face about the office.
Young, who met Wick before he even began college, when his father, J. Michael Young, was director of Honors, said of Wick, "She's been a steady presence and a source of counsel for students over that long span of time."
Perhaps more than anything, Wick has gotten a charge out of seeing students' intellectual curiosity take flight. "A lot of students came in as pre-med or pre-law because they were afraid to be undecided. But it's OK to be undecided," she said.
One student Wick advised had gone so far as to survey his friends to see what they were majoring in and why. But Wick asked him outright, "What do you enjoy doing?"
Another student told Wick he planned to be a pre-pharmacy major at KU, saying his mother had also gone to KU and gone through the pharmacy program. "I asked him, if it wasn't pharmacy, what would it be?" He shot back without hesitating: landscape architecture.
"I hated to tell him this, but I said, 'You'll have to go to Kansas State.' And he did," Wick said, as proud of the one who got away as the ones who stayed.
Wick has seen pre-med and pre-law freshman go on to philosophy and history degrees, and encouraged them to follow their curiosity along the way. But she says students face ever more the pressure to get a practical degree, especially in the STEM (science, technology, engineering and math) fields.
Wick said she tries to counsel students without telling them what to do or making decisions for them. When students come back to her saying they took her advice, she's horrified, or pretends to be horrified.
Far more horrifying, though, was being put in charge of the Kansas Regents Honors Academy, which drew in 150 "hormone-driven," as Wick describes them, juniors and seniors from Kansas High Schools, and put them under Wick's charge.
"I had two goals: Nobody dies and nobody gets pregnant."
Luckily, she had just one police call in the two years she oversaw the academy, and it was "pretty frivolous," Wick said. And even though she jokes about the trauma, she still took pleasure in watching the students — like those in the Honors Program — learn to be themselves.
"These were kids who were probably the smartest in their class, and they could come here and see that was OK," she said. "That was fun to see."
Copyright 2018 The Lawrence Journal-World. All rights reserved. This material may not be published, broadcast, rewritten or redistributed. We strive to uphold our values for every story published.