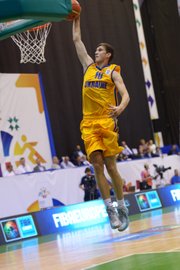 Only time will tell if 16-year-old Ukrainian sensation Sviatoslav Mykhailiuk will be able to crack Kansas University's basketball rotation in 2014-15 and become one of the youngest players in college basketball history to make an immediate impact on a powerhouse program.
One thing is certain: Following Wednesday's signing of the 6-foot-8 Mykhailiuk, KU's perimeter is one of the deepest in the country.
The Jayhawks have Mykhailiuk, Wayne Selden, Kelly Oubre, Conner Frankamp and Brannen Greene, as well as traditional point guards Devonté Graham and Frank Mason.
Frankamp, Selden and Mykhailiuk have been mentioned as point-guard possibilities as well as 2-guards.
"I think that he will be an immediate impact guy. He is a guy that can play all three positions on the perimeter," KU coach Bill Self said of Mykhailiuk, who figures to gain valuable experience this summer playing for the Ukrainian National Team.
Mykhailiuk, who has made no secret of the fact he wants to play in the NBA as soon as he's eligible (after two seasons at KU), recently addressed the age issue with Jonathan Givony of draftexpress.com.
"I have pro experience. In Ukraine I play on a pro team. There were guys 10 years older than me, 12 years," said Mykhailiuk, who turns 17 on June 10. "I don't have problems with these (older) guys.
"I have experience to play with these guys," he added, referring to older players at the Nike Hoops Summit.
Mykhailiuk is still kind of a mystery to the analysts.
"Sviatoslav Mykhailiuk is a guy we haven't seen very much of," Rivals.com's Eric Bossi told jayhawkslant.com. "He was over for the Jordan Brand Classic and made a really good impression on everyone that saw him play. In speaking to people that I know that have seen him over in Europe, they rave about him as a jump shooter, and a guy who has some athleticism in the open floor. He is also a guy that has some skill with the ball in his hands."
Bossi adds: "I did some reaching out to some NBA types (four different teams) that I know have seen him multiple times and in person. Feedback I got was that he is considered one of the top amateur shooters in the world. International, local, doesn't matter, in the very upper crust. Good feel for the game. A significant pickup. Will need to add strength but is an elite jump shooter and good open floor finisher. Speaks great English (a key) and on and on. I asked a few who follow/are in tune with high school rankings and they told me that he would likely be considered at least a top 10 type player if he were a U.S. high schooler.
"Also, keep in mind that because of his youth they are talking about him in terms of as a 2015 or 2016 player. There are concerns about lack of physicality/strength being potential early stumbling blocks. That and learning to play defense the way Self will want him to," Bossi added.
Givony of draftexpress.com listed Mykhailiuk's strengths as: very good athlete; nice frame that will fill out in time; fluid with good body control; can create his own shot, mainly for jumpers; nice shooting mechanics, talented shooter; terrific with feet set; can hit shots in a variety of different ways, step backs, pull-ups; changes speed in transition; has a few different gears he can operate at; drives left or right; competes defensively; good instincts and awareness on defense; gets in passing lanes; contributes on the glass; good feel for game; not a selfish player; makes extra pass.
Givony lists his weaknesses as: "poor wingspan (6-6, same as height); lives off tough shots; not efficient at all inside arc; low two-point percentage guy his entire career; misses a lot of easy looks around basket due to lack of length and strength; will need to find a way to diversify his game and try to become more efficient; struggles defensively at times due to lack of length and strength."
Cavs choices: So which player of the Big Three — Andrew Wiggins, Joel Embiid, Jabari Parker — will Cleveland select with the No. 1 pick in the 2014 NBA Draft?
Good question.
"In case you're wondering, Jabari Parker has been at the top of the Cavs' draft board much of the season," writes Jason Lloyd of the Akron Beacon Journal.
Begging to differ, ESPN's Chad Ford wrote that the Cavs consider Wiggins the "likely selection."
And ESPN's Jeff Goodman writes that the Cavs "have 7-footer Joel Embiid at the top of their draft board."
Dan Feldman of NBC Sports/Pro Basketball talk writes: "So what gives? If you want to split hairs you could argue Chris Grant was the Cavaliers' general manager 'much of the season.' So, it might not matter which prospect topped Cleveland's board 'much of the season' now that David Griffin is in charge."
An NBA source told the Journal-World the Cavs reportedly have Embiid at the top of their wish list.
Bucks speak out: The Milwaukee Bucks believe they'll have great options at No. 2 overall.
"'Those guys (Parker, Wiggins, Embiid) all have a chance to be, I think, stars of this league, be All-Stars in this league, and are guys that you can build with and build a championship franchise,'' Bucks general manager John Hammond told the AP on Wednesday.
Black at mini combine: Former KU center Tarik Black attended the Los Angeles Clippers mini combine on Wednesday. The 6-9, 260-pound Black is a possible second-round pick in the NBA Draft, more likely a free-agent addition to an NBA team's summer camp roster.
Manning to coach at camp: Former Kansas University All-American Danny Manning, who recently was named head coach at Wake Forest after two years at Tulsa, has been named a court coach for the 2014 USA Basketball Men's Under 18 national team training camp that will take place June 10-19 at the U.S. Olympic Training Center in Colorado Springs, Colorado. Manning will assist the U18 coaching staff of Billy Donovan (Florida), Ed Cooley (Providence) and Sean Miller (Arizona).
"It's an honor and a privilege to be involved with USA Basketball again," said Manning, 48, who was an Olympic bronze medalist in 1988. "Having played for Team USA, I know how special it is to represent your country on the basketball court. I'm looking forward to working with a great coaching staff and a talented group of players as they prepare to face some of the best competition the world has to offer."
Training camp is used to select the 12-man roster for a USA team that will play in the 2014 FIBA Americas Under 18 championship June 20-24 at USOTC in Colorado Springs.
Pellock was 17, too: KU fan Kris Weidling points out Mykhailiuk will be the second Jayhawk to play for KU at the age of 17. Mark Pellock of the 1984-85 team was born on April 6, 1967, meaning he was 17 during that season. He averaged 1.8 points and 1.7 rebounds in 22 games. Pellock enrolled at KU after his junior year at Parsons High.
Copyright 2018 The Lawrence Journal-World. All rights reserved. This material may not be published, broadcast, rewritten or redistributed. We strive to uphold our values for every story published.