Contact KU and higher ed reporter Sara Shepherd
Have a tip or story idea?
---
More stories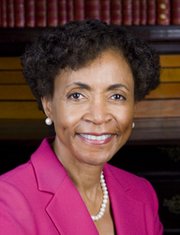 Kansas University moved $25 million closer to a new medical education facility after a lead gift from the Hall Family Foundation was announced Tuesday.
With state funding approved last month, the $25 million Hall family gift will put KU in a position to start designing and planning the $75 million Medical Center expansion, a top lobbying and fundraising priority for KU in recent years.
KU Chancellor Bernadette Gray-Little said the Hall family gift "enables us to move forward on plans to build" the new facility and "positions KU to address the state's doctor shortage head on."
She and Fred Logan, chairman of the Kansas Board of Regents, thanked Gov. Sam Brownback and the Legislature for their support of the building. Gray-Little called the project "a shining example of lawmakers, donors and KU" partnering on a major initiative.
KU's lobbying and messaging strategy has focused heavily on winning support for the new facility. The Legislature turned down requests last year to move tax overpayments by KU toward the medical center project, before approving $25 million in state bonds this spring.
Officials say that a new building is needed to train doctors using modern educational methods. "You don't sit in a classroom and listen to lectures for eight hours any more," said Doug Girod, executive vice chancellor of KU Med.
The new building will be designed to allow for more team-based work, experiential learning and new technologies, Girod said.
KU Med officials say the center could train an additional 50 medical students each year with the new facility.
Girod said he hoped to break ground on the facility by spring 2016.
Of the $75 million estimated cost of the project, officials hope to raise $10 million more through private donors, with KU providing the remaining $15 million left after state support and the Hall gift. Officials hope the gift announced today will prompt others to give.
The Hall family gift was years in the making and adds to the support that the family and foundation have given to KU over the decades, including a major gift that helped create the Hall Center for the Humanities.
Don Hall, chairman of the Hall Family Foundation, said KU Med and KU hospital have been "transformed into outstanding research and clinical enterprises," but "certainly educational facilities have lagged."
Copyright 2018 The Lawrence Journal-World. All rights reserved. This material may not be published, broadcast, rewritten or redistributed. We strive to uphold our values for every story published.