Contact KU and higher ed reporter Sara Shepherd
Have a tip or story idea?
---
More stories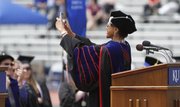 Photo Gallery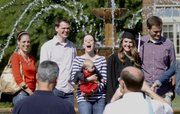 KU's 142nd Commencement
Kansas University students celebrate graduation activities at the 142nd Commencement at KU Sunday, May, 18, 2014.
In an era of widespread social media, when even the president of the United States finds himself in someone else's selfie, Kansas University Chancellor Bernadette Gray-Little had a message for the thousands of students in caps and gowns gathered before her in Memorial Stadium, poised to graduate this summer.
"Always strive to be something bigger than your selfie," she said.
While some colleges, such as Bryant University in Rhode Island, are banning students from taking pictures of themselves at graduation, Gray-Little told her students to smile as she turned her back to them and commemorated the day by snapping a selfie of her own. In the background behind her were thousands of cheering KU graduates.
The technology and the terms might be different, but those sorts of excited hijinks among students, families and even KU officials are standard fare for graduation day on the Lawrence campus.
On a pastoral Sunday, with mostly blue skies and calm breezes, KU held its 142nd Annual Commencement ceremony. All told, more than 4,000 students were candidates for graduation this spring, and 12,000 were invited to Commencement.
Gray-Little might have been kidding when she told students to be bigger than their selfies, but she also had serious words for them as their time at the university came to an end.
"Each of you has it within you to do far more than simply earn a good living," she said. "You are who our society will rely upon to solve the grand challenges of our time."
Likewise, Kansas Board of Regents Chairman Fred Logan told graduates in his greeting to them that he hoped they would use their KU education "to help others succeed, help everyone else along."
Along with conferring degrees to KU students, the university also awarded two honorary doctorates, to vocalist Joyce Ann DiDonato and economist Vernon Smith.
Quoting the New York Times, KU Provost Jeff Vitter described DiDonato, a mezzo-soprano noted for her work in opera and other classical forms, as "the perfect 21st-century diva."
Smith, a professor of economics at Chapman University in California, shared the 2002 Nobel Prize for his work in behavioral economics, a field that applies psychology-style lab experiments to study economic decision making.
As tradition demands, graduating students initially gathered by the thousands on Memorial Drive for the walk through the Campanile and down the hill into the football stadium.
For all but the unlucky and foolhardy, it was the first time students passed through the World War II memorial, as KU superstition holds that doing so before Commencement portends that graduation will never come.
Eugene Williams said his son Phillip, who graduated Sunday with a degree in business, didn't want to so much as look at the Campanile before graduation because of the tradition and superstition around it.
Williams and his wife, Mildred, traveled from Rochester, N.Y., to see their son graduate. With no shortages of colleges in New York, Williams said his son chose KU because of its sports prestige, especially in basketball, and because "he just loved Lawrence."
Although most of the crowd lining the hill and filling the stadium were the friends and family of graduates, some came simply to watch the day's festivities.
Norma Pierce, who moved to Lawrence from Virginia last summer, said she and her husband turned out just to see what graduation day was all about at KU.
"It's a spectacle," she said.
Copyright 2018 The Lawrence Journal-World. All rights reserved. This material may not be published, broadcast, rewritten or redistributed. We strive to uphold our values for every story published.