Photo Gallery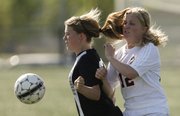 Lawrence High girls soccer v. Shawnee Mission Northwest
Images from Lawrence High's game against Shawnee Mission Northwest on Tuesday at Lawrence High School.
For a two-minute stretch during Tuesday's 6-1 loss to Shawnee Mission Northwest at Lawrence High's soccer field, the LHS girls played like they had practiced and executed their game plan exactly the way they wanted to.
After winning a battle for possession near midfield, freshman Skylar Drum made a couple of decisive moves toward the SMNW net and fed a crisp pass ahead to senior Addison Campbell. Campbell touched the ball twice to gain her footing and then ripped a shot by the outstretched Cougars' goalkeeper, who looked powerless against the rocket off of Campbell's right foot.
"We do that in practice," Drum said after the loss that dropped the Lions to 4-9. "It's all about quick touches — three touches max and get rid of it. We're really trying to focus on taking what we do in practice into the games."
It was there on Tuesday. As Drum said, "you see glimpses," but the Lions struggled to maintain that kind of consistent attack throughout the night. A relentless group of Cougars might have won 15-1 had it not been for the effort of the Lions' defense, particularly goalie Alex Ewy, who routinely threw her body in harm's way to keep the Cougars out of the net.
The two teams played a back-and-forth battle for the game's first 12 minutes. LHS actually generated the game's best scoring chance in the early going, when senior Kayla Duncan flexed her muscles deep in SMNW territory to earn a corner kick. Junior Keeli Billings took the kick and played a beautiful ball into the box, but the Cougars' defense was up to the challenge and turned the chance away.
Moments later, a failed clear attempt by the Lions led to a breakaway for Northwest's Alex Willming, who gathered herself and beat a dive by Ewy.
The Cougars (7-4-1) added two more goals two minutes apart later in the half, and Campbell cut the lead to 3-1 with the Lions' lone goal just before halftime.
Time and again in the second half, the Cougars pounded the LHS net with shots, and Ewy fought off most of them, some coming in three- and four-shot spurts just seconds apart.
"It can get pretty stressful," Ewy admitted. "But I've kind of gotten used to it. I think we get some momentum from plays like that, and I know my defense saves me a couple of times a game."
The Cougars tacked on two late goals to make this one look a little more lopsided than it was, but LHS coach Justin Young said his team's intensity to open the second half cost the Lions as much as anything.
"Everything that was working in the first half we let fall off," Young said. "We didn't maintain the game plan. We let fatigue get to us, and we lost our composure a little bit."
Although the Lions continue to struggle to put complete games together, Young pointed out that they were four victories ahead of last season's pace. Asked if she thought her team was having fun because of that, Drum smiled and answered without hesitating.
"Yeah," she said before running off to watch the junior varsity game that followed.
LHS will play at SM South at 7 p.m. Thursday.
Copyright 2018 The Lawrence Journal-World. All rights reserved. This material may not be published, broadcast, rewritten or redistributed. We strive to uphold our values for every story published.