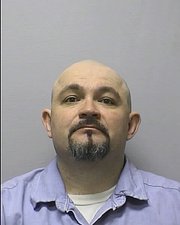 A Douglas County judge told jurors in the retrial of a Lawrence man charged in a 1997 rape case that he expected to submit the case to them for deliberation as early as Thursday morning.
The prosecution plans to call a final witness in its case against Robert Grey, 41, whose 2009 conviction was overturned last year when a Kansas Court of Appeals panel awarded him a new trial after finding that prosecutorial misconduct had deprived him of a fair trial.
Grey was sentenced in 2009 to 26 years in prison and is accused of driving a Kansas University student from the parking lot of Naismith Hall and raping her in a secluded area near Lawrence High on May 11, 1997.
One of the final witnesses called Wednesday by Assistant District Attorney Eve Kemple, who leads the prosecution, was a woman whom he dated and lived with in 1997. Grey's defense has argued that, as an avid hunter, Grey owned several shotguns and rifles, but no handgun. The victim has said that she was driven in her car by a man who displayed a handgun and threatened to kill her if she looked at him. But Lisa Hill, who said she dated Grey for nine years, testified Wednesday that Grey did own a handgun.
Before resting its case, the defense, led by Angela Keck, continued to argue that the victim's description of being raped by a man with matted hair and a distinctive "smoky" smell was inconsistent with that of Grey. Several of Grey's friends testified Wednesday that Grey always kept himself well-dressed and that they ribbed him for nearly always splashing on Cool Water cologne. "He always smelled like he put the whole bottle on," said Kenny Patterson, a longtime friend of Grey's.
Both sides, meanwhile, continued to argue about the sperm sample collected during a sexual assault exam performed on the victim later in the early morning hours following her attack. None of the sperm collected was found to still be moving, and an obstetrician-gynecologist from Salina called by the defense testified that though the moving sperm begin to die within three hours, some may still be found within 10 hours.
But Kemple later called her own witness, a forensic consultant at Shawnee Mission Medical Center, who said testing for still-moving sperm was no longer an evidence-based practice.
The prosecution will call a final witness, a doctor, when trial resumes Thursday morning.
Copyright 2018 The Lawrence Journal-World. All rights reserved. This material may not be published, broadcast, rewritten or redistributed. We strive to uphold our values for every story published.