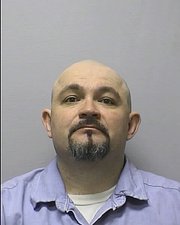 A woman whose 1997 rape became a cold case for more than a decade returned to court Friday to testify against the Lawrence man who is again standing trial for the crime.
The woman, who lives in Florida with her husband and two children, was the first witness called to testify against Robert E. Grey, 41, whose 2009 conviction was overturned last year when a Kansas Court of Appeals panel awarded him a new trial after finding that prosecutorial misconduct had deprived him of a fair trial.
The woman, who was a Kansas University junior from Chicago the night of the assault, was poised as she again described the events of May 11, 1997. She said she and her then-boyfriend had driven separately back from dinner and a movie in Leawood and that she first arrived at Naismith Hall, where they both stayed. By the time her boyfriend arrived, she was being driven in her car out of the parking lot by a man who had approached her with a gun. "I remember mouthing to him 'help me, help me," she said Friday.
Her boyfriend at the time, a fellow student who now lives in Minnesota, said Friday that he watched her being driven away as she huddled in the passenger seat staring blankly. "I've never seen anyone's eyes tremble but they did that night," he said Friday.
The woman said Friday that she caught glimpses of the route they took toward an empty lot near Lawrence High School. Once there, she said, she was told to walk in front of the man, not to look back as they continued down a dirt path where the rape occurred.
Assistant District Attorney Eve Kemple, leading the prosecution, said Friday that investigators from the Lawrence Police Department and the Kansas Bureau of Investigation will testify about semen samples and a fingerprint from the victim's car that both matched Grey before his 2007 arrest.
Angela Keck, who is leading Grey's defense, said a fertility doctor will testify that the semen found during a sexual assault exam did not contain active sperm, which can be found up to 12 hours after intercourse. Keck said Grey did not know the woman but later recognized her as a woman he had consensual sex with in the parking lot of the Cadillac Ranch the weekend the rape occurred. Keck also said that the woman has given multiple descriptions of a suspect that have changed over time and that none of the descriptions matched Grey and that details provided by the woman and her then-boyfriend were inconsistent. "These are things that will make you wonder," Keck said.
On Friday, the woman said that after the assault the man was wearing pantyhose over his head as he drove her to Missouri Street and opened his door to exit. "You'll never have to see me again," she said he told her.
Grey was sentenced to 26 years in prison after his original conviction. Still in jail on a $500,000 bond, he wore a suit and tie Friday as he sat quietly, occasionally swiveling his chair.
Prosecutors said they expect to rest their case by early Wednesday, at which point Grey's attorneys plan to call their own witnesses and present evidence through Thursday.
Copyright 2018 The Lawrence Journal-World. All rights reserved. This material may not be published, broadcast, rewritten or redistributed. We strive to uphold our values for every story published.