In April, Deb Young returned to her Lawrence home for the first time in over five months. Much had changed.
Young, 56, lost her left arm and both legs in the aftermath of a car accident, which doctors were once almost certain would claim her life. Last October, she had been driving north on U.S. 169 in Neosho County when she collided head-on with a vehicle traveling in the wrong direction.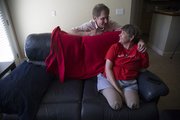 Everything Young does must now be recalculated and reconsidered. But that is not to say the future she had in mind for herself prior to the accident disappeared. Many of the same things are still right where they were before: down the road, something to look forward to.
How to vote
Members of the public can vote for Deb Young here. An email address is required to log in and sign up. Voters will receive a confirmation email with an assigned password inside, which is required for voting.
For instance, she will, sooner or later, return to work at Greenbush, a nonprofit organization that works with school districts to provide services for at-risk students, where she was regional director of special education. And she and her husband, Brett, still have that trip to Europe planned.
"We're not letting go of the dreams we've had," she said. "Our dreams just have to be modified."
Regaining her mobility is where all of that begins. Five days a week she visits a rehabilitation center to practice moving with her first set of prosthetics, the legs of which do not have knees. Three days a week are dedicated to recovering strength in her right hand.
And once she can walk, she wants to get behind the wheel of a car again, to have the personal freedom of going wherever, whenever -- her mother's house, the grocery store, work. Young already has a driving evaluation scheduled in September, she said.
Months ago, before Young was released from the hospital, her co-worker and friend of 12 years, Beth Hoff, entered her into a contest organized by the National Mobility Equipment Dealers Association that has four wheelchair-accessible vans up for grabs.
Not only is it a vehicle that would allow her to get in and out with greater ease -- her husband is currently the only person who can get her and a chair into their SUV and sedan -- it's a car she would one day be able to drive.
But there's a public voting aspect to the contest, which means she'd have to share her story -- send emails, make phone calls, perhaps talk to the media. That's not easy to do after such a transformative accident.
Winning the van would be a boost for the Youngs, who recently moved into a temporary apartment to better accommodate a wheelchair and are weighing renovating their house or getting a new one.
But it was still difficult for Hoff to convince Young to do some campaigning. Indeed, with the Friday voting deadline approaching, Young still waited over a week before agreeing to an interview with the Lawrence Journal-World.
"I'm pretty private for the most part," she said. "It was hard for us even to ask people to vote."
Ultimately, she decided her story could serve a purpose, a demonstration that living a life doesn't need to stop now that things are different.
"If anything I want people to know it doesn't mean our lives stop, we just find other resources to support us to get back to doing what we've been doing," Young said. "I just want people to know there is a life. It's different, but there is a life."
The contest has the public vote on participants and their stories. The four winners are selected out of a pool of the top 10 percent of vote-getters by the NMEDA. Hoff said she has kept track of the other 1,360 or so participants and says Young is within the top "13 or 14" percent as of Tuesday.
If the van doesn't come their way, it will be yet another thing for the Youngs to figure out. But they seem prepared. Deb wears a necklace around her neck, given to her by Brett while still hospitalized, that reads "Never give up."
"I can't give up, not now, I've come too far," she said, before turning to Brett and locking eyes.
Copyright 2018 The Lawrence Journal-World. All rights reserved. This material may not be published, broadcast, rewritten or redistributed. We strive to uphold our values for every story published.