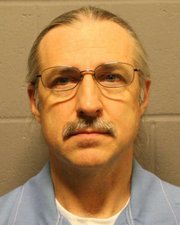 Both parties awaiting the retrial of a 2004 murder case will again meet in June before setting a trial date.
Martin K. Miller, 55, appeared in Douglas County District Court Thursday for what was originally scheduled to be a trial setting hearing. But the parties instead agreed to return June 5 for a status conference because Miller's new attorney, Richard Ney, recently joined the case.
Miller bonded out of jail last month on a $250,000 bond and is living with his wife, Laura Cuthbertson, and her father in Paola as he awaits a second trial. Miller and Cuthbertson married while Miller was in prison in 2006.
Miller, a former carpenter and Christian school leader in Lawrence, was charged with first-degree murder for the July 28, 2004, death of his wife, Mary Miller, 46, at the family's central Lawrence home. Miller's 2005 murder conviction was overturned in February based on an incorrect jury instruction. Until that point, Miller was serving a sentence of 25 years to life handed down by District Judge Paula Martin.
Wearing a dress shirt and tie and having had his long hair cut, Miller was joined by family Thursday in court.
District Attorney Charles Branson is leading the prosecution against Miller.
Copyright 2017 The Lawrence Journal-World. All rights reserved. This material may not be published, broadcast, rewritten or redistributed. We strive to uphold our values for every story published.