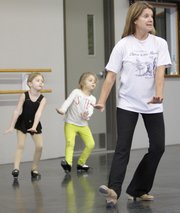 On a recent day at the Lawrence dance studio she founded, Karen Fender was teaching tap dance to a group of 3- to 5-year-old girls.
They intermittently looked interested then bored. They matched her moves at different rates of success. One girl kept wandering in and out of the room, looking for her mom.
Fender wasn't fazed. She didn't get flustered or scold the kids. She continued to teach them as if they were keeping up with her, step for step.
Her steady personality has served her well as a dance instructor for the past four decades. Over that time, she has worked with numerous students, their ages and skill levels varying widely, some of whom went on to be professional dancers or even open their own dance studios.
"I can't come up with a number — it's been thousands. I've had grandmas, moms and granddaughters — three generations of dancers," said Fender, the longtime owner of the Dance Gallery.
Fender plans to retire from her business in June, after training her dancers through one final national competition. She recently sold the studio to Grant and Kristen Ryan, of Lawrence. Instructor Tim Flattery, meanwhile, will take over as director.
Fender, who grew up in Shawnee, started dancing as a toddler. "I didn't want to quit once I started," she said.
She began teaching dance while she was a freshman in high school. She ran a small studio in her parents' home, instructing mostly neighborhood kids, until her senior year. She went on to dance with the USO and represent Kansas in the Miss America pageant.
After high school, she attended Kansas University, where she studied education, thinking she had a knack for teaching. (She was right.) Upon graduation, she got a job with Southwestern Bell in Kansas City. But after marrying and having children, she decided she didn't want to keep making the long commute each day.
So, in 1981, she opened a dance studio in an upstairs loft at Eighth and Massachusetts streets. The business would move several times in the years that followed, before finding its current home on Legends Drive in West Lawrence, in 1999. It grew from having one instructor (Fender) to nearly a dozen.
"A lot of the memories of childhood which were all fun and great were at Dance Gallery," said Britny Wood, of Lawrence. "My best friends today were friends I met at Dance Gallery."
Wood, 39, started dancing at Fender's studio more than 30 years ago. She now takes her daughters — ages 14 and 8 — to Dance Gallery; her mother has taken adult tap classes there as well.
"She's just always very positive and really good with the girls," Wood said of Fender, adding: "She's a very successful woman. She's definitely somebody to look up to. She built that business on her own."
While Fender, 57, can still teach and dance, it's not as easy as it once was; she has knee, back and joint issues from a lifetime of falls.
Fender, whose kids are all grown, is thinking about moving somewhere warm, at least during the winter. She just hopes there's a local dance studio nearby so she can teach part-time.
The longtime instructor says dance not only shows kids how to move and be physically active but gives them self-confidence and an ability to perform in front of people. "I believe it can help them accomplish whatever they desire," she said.
Copyright 2017 The Lawrence Journal-World. All rights reserved. This material may not be published, broadcast, rewritten or redistributed. We strive to uphold our values for every story published.