Photo Gallery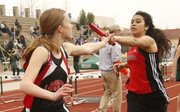 Free State track meet (3-28-2014)
It was only the first track and field meet of the season, but that didn't mean several runners from Lawrence High and Free State High weren't in mid-season form.
Free State junior Gabbi Dabney won the 100-meter hurdles (15.79), and junior teammate Kiara Clark finished second (15.99). FSHS freshman Emily Venters won the girls mile (5:09.63), and Lawrence High junior Rebecca Finley won the discus (133-10) and shot put (36-1) in the Free State Invitational on Friday at FSHS.
"It feels great," said Free State senior Stan Skwarlo, who took first in the 800-meters (2:01.38) and third in the boys mile (4:28.85). "The weather cooperated, actually. It was a nice day. The distance team really improved a lot. It was just nice to get the spikes back on and to race again. It beats practice, that's for sure."
It was also an eventful day for personal-bests. Firebirds sophomore Claire Sanner set a personal record in the two-mile (11:22.12) and finished in third in the one mile (5:18.83). Junior Laura Kennard, who usually runs in the 400, had the top time in the 100-meters (13.02).
"It was awesome," Kennard said. "Totally did not expect that."
LHS junior Marlee Bird was third in the girls javelin (102-3), while junior Kennedy Dold (8-10) and Kaytlin Riesdesel (7-6) took second and third in the pole vault.
"It's typical first meet," LHS coach Jack Hood said. "You've got good things, bad things, kids worrying and wondering. But it's a great start to a season to just get out and finally try it. We're sick of practicing. We get to compete a little bit. We've got a lot of kids doing a lot of different things."
Despite the successes, there are plenty of things for both teams to work on. With limited outdoor practices because of weather in the preseason, there weren't any disappointed coaches.
"I was talking with the other coaches. A lot of us kind of look at this meet as, 'Where are we at?'" Firebirds coach Jordan Rose said. "This kind of gives you a gauge on how you're doing, especially when you've been inside to practice a lot."
LHS had its season-opening meet, the Topeka West Relays, postponed because of weather on Thursday. Rose called Hood after it was called and offered a spot in Friday's meet, which helped the Lions avoid having to wait nearly a week before their next meet.
"It's always more fun, I think, when you get a bigger group together, especially at this first meet to kind of see what other teams are doing and stuff like that," Rose said. "Adding (Topeka) Seaman and LHS was a really good move because I think all of us had a good time coming together and having kind of a bigger meet for our starting meet than usual and it shows our kids, some good competition right off of the bat."
The Firebirds and Lions will face each other again in a dual at 3:30 p.m. Tuesday at LHS.
Free State Invitational, Friday at Free State High
City top-six finishers
Girls
100 — 1. Laura Kennard, FS, 13.02; 5. Myah Yoder, LHS, 13.74.
200 — 3. Kennard, FS, 27.08; 4. Marissa Pope, LHS, 27.89.
800 — 4. Cienna Sorell, LHS, 2:43.69.
1600 — 1. Emily Venters, FS, 5:09.63; 2. Bailey Sullivan, FS, 5:15.53; 3. Claire Sanner, FS, 5:18.83.
3200 — 1. Sanner, FS, 11:22.12.
100 hurdles — 1. Gabbi Dabney, FS, 15.79; 2. Kiara Clark, FS, 15.99.
300 hurdles — 1. Clark, FS, 48.13; 5. Dabney, FS, 51.75.
High jump — tie-1. Dabney, FS, 5-0; tie-4. Katie Lomshek, LHS, 4-10.
Long jump — 1. Kyleigh Severa, LHS, 16-2.75; 4. Caitlin Broadwell, LHS, 14-11.75.
Triple jump — 2. Broadwell, LHS, 31-7.75.
Shot put — 1. Rebecca Finley, LHS, 36-1; 2. Matia Finley, LHS, 35-0.5.
Discus — 1. R. Finley, LHS, 133-10; 2. M. Finley, LHS, 126-7; 3. Hannah Shoemaker, FS, 102-10; 5. Moneque Bean, LHS, 95-11.
Javelin — 3. Marlee Bird, LHS, 102-3; 5. Shoemaker, FS, 94-1; 6. Lomshek, LHS, 93-6.
Pole Vault — 2. Kennedy Dold, LHS, 8-10; 3. Kaytlin Reisdesel, LHS, 7-6; tie-4. Jessica Huffman, FS, 93-6; tie-4. Alyssa Hicks, FS, 7-0; tie-4. Meeghan Perry, FS, 7-0.
Boys
100 — 5. J.D. Woods, LHS, 11.56
800 — 1. Stan Skwarlo, FS, 2:01.38.
1600 — 3. Skwarlo, FS, 4:28.85; 6. Tanner Hockenbury, FS, 4:39.60.
3200 — 5. Ryan Liston, FS, 10:13.65; 6. Thomas Becker, FS, 10:16.21.
110 hurdles — 2. Dearion Cooper, LHS, 16.86; 3. Rueben Wesley, FS, 16.92; 4. Tre Moore, LHS, 17.19; 6. Zach Sanders, LHS, 17.86.
300 hurdles — 3. Cooper, LHS, 43.86; 5. Wesley, FS, 44.60; 6. Sanders, LHS, 45.23
High jump — tie-3. Logan Shields, LHS, 5-10.
Pole vault — 1. Trevor Hillis, FS, 13-6.
Long jump — 2. Lavontae Shorter, LHS, 20-8.5.
Triple jump — 1. Erik Parrish, LHS, 43-8.
Discus — 2. Nicholas Hocking, FS, 135-3.
Javelin — 5. Lucas Werner, FS, 147-3.
Copyright 2018 The Lawrence Journal-World. All rights reserved. This material may not be published, broadcast, rewritten or redistributed. We strive to uphold our values for every story published.