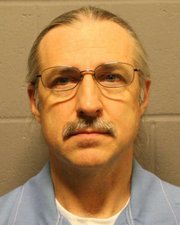 Related document

Miller v. State ( .PDF )
A date for the retrial of a 2004 murder case is still at least more than a month away as Thursday's trial setting in the case of Martin K. Miller was continued to May 1.
Last month, the Kansas Supreme Court overturned Miller's conviction based on an incorrect jury instruction. Miller, 55, a former carpenter and Christian school leader in Lawrence, was convicted of first-degree murder for the July 28, 2004, death of Mary Miller, 46, at the family's central Lawrence home.
Miller appeared in court Thursday with long hair pulled into a ponytail. Because the case was new to the office of Miller's attorney, David Magariel, Magariel asked that the trial setting be moved to May 1 so the defense could gather evidence.
Also on Thursday, District Judge Paula Martin set Miller's bond at $250,000, up from his initial bond of $150,000 but less than the $1 million requested by the prosecution. Magariel said that if Martin posts bond, he has a place to stay in Paola with his wife, Laura Cuthbertson, and her father. Miller married Cuthbertson while in prison in 2006.
In 2005, Martin had sentenced Miller to 25 years to life in prison. Earlier this month, Miller was transported from the Lansing Correctional Facility to Douglas County Jail ahead of his Thursday appearance. Miller had told jurors in his first trial that he was sleeping in another room when he heard Mary Miller having "some kind of attack" and went to comfort her before she died. But prosecutors accused Miller of strangling his wife in her sleep because he was having an affair and wanted to collect $300,000 in life insurance.
In a unanimous decision on Feb. 14, the Kansas Supreme Court said the written jury instruction given by Martin in the trial was in error. Justice Dan Biles wrote that the instruction given at the trial erroneously told the jury to acquit Miller only if it had a reasonable doubt as to every element of his first-degree murder charge rather than a reasonable doubt as to a single element. "And in doing so, it did not correctly describe the standard that the jury was required to apply in finding Miller guilty or not guilty," Biles wrote.
A direct appeal of Miller's guilty verdict was upheld by the Kansas Supreme Court in 2007, and in 2012 a Kansas Court of Appeals panel said Miller should have a new trial because of the jury instruction errors.
Copyright 2018 The Lawrence Journal-World. All rights reserved. This material may not be published, broadcast, rewritten or redistributed. We strive to uphold our values for every story published.